BudaMunk & J.Lamotta - Searching Skies
Written by Chi Chi Thalken on November 8, 2021
J.Lamotta is an artist born in Tel Aviv to Moroccan parents, now making her home in Berlin. She released her debut album, Conscious Tree, back in 2017, and since that time she's shown a few different sides of herself with various different projects. The most recent project, an EP called Brand New Choice, came out in 2020, and had her at her most accessible and danceable R&B/Pop. Now she's shifting gears once again, working with Tokyo producer BudaMunk to make the album Searching Skies.
If you've spent time with BudaMunk's catalogue, you might have a decent idea of what to expect on Searching Skies, which is to say that this album is full of left-of-center downtempo beats. There is a warmth and a jazziness to the beats that feels familiar and gets in you in the mindset that you're going to hear some neo-soul, but then he keeps finding all of these subtle ways to subvert your expectations with his musical choices and keeps you on your toes as you make your way through the album. It's not anything wild, just a case where he will zig when you're thinking zag, showing you how many different ways there are to construct tracks in this style that are still enjoyable, just not so predictable. On the mic, J.Lamotta is giving us her most sultry and intimate vocals, and she certainly excels in this style of singing. She's got the charisma, and she's got great control of her voice, so she's a good choice to be the one to lead you through the twists and turns of BudaMunk's production and give you that melody that your ear is looking for. Perhaps the greatest surprise of the album will come when you look at the credits and see that Lamotta is listed as contributing "lyrics and trumpet." While this isn't the project where Lamotta is going to blow you away with six-minute jazz solos on the horn, she does show some good instincts and tone on the trumpet, providing a really tasteful outro on "Open Your Mind." It just gives the whole project that third heat.
Searching Skies is another excellent entry in J.Lamotta's growing discography. She shows a lot of maturity and flexibility in working with BudaMunk, delivering a beautiful neo-soul album with a lot of interesting twists and turns along the way.
| | |
| --- | --- |
| Title: | BudaMunk & J.Lamotta - Searching Skies |
| Label: | Jakarta |
| Year: | 2021 |
| Rating: | 8/10 |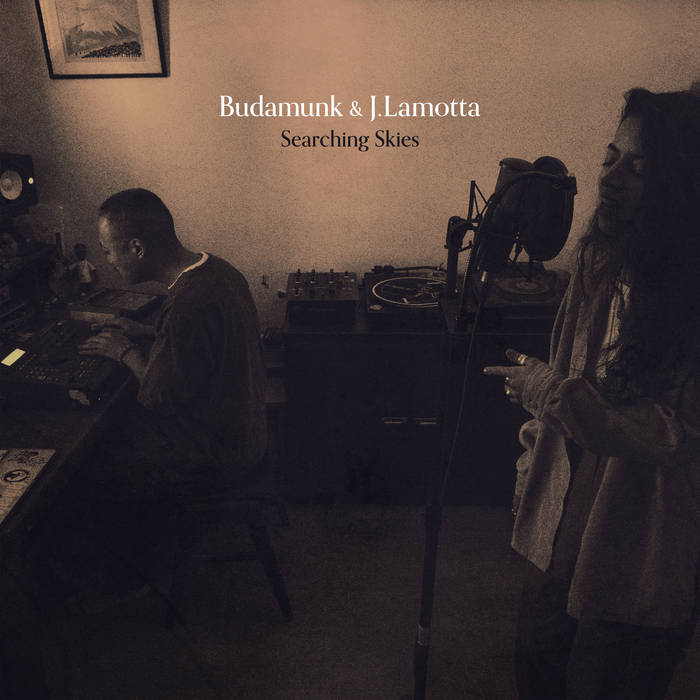 Previous: Adeline - Adi Oasis
Next: Evil Needle - L'Emprise