BlackLiq x Ohbliv - What Will It Take
Written by Chi Chi Thalken on January 13, 2023
BlackLiq is an emcee from Richmond, Virginia who made his debut on Strange Famous just in 2021 with his breakthrough album with Mopes, Time is the Price. Now he is back with a new EP with producer Ohbliv, out on Man Bites Dog, What Will It Take.
When you put a lot of yourself into a big, breakthrough project like Time is the Price, it can be nice to take a step back and do something a bit more simple, where the stakes are a little smaller. That's exactly what BlackLiq is doing in working with Ohbliv on this EP. This isn't to say that the quality is diminished, but simply that the structure of the project is much more straightforward. Ohbliv is laying down some creative loops of obscure soul samples and other found pieces, and BlackLiq is just hopping on the mic to spit some raw poetry and getting to the core of his lyricism. He's a talented emcee with a penchant for personal storytelling, but there's just no pressure here to turn anything into a pop song or trying to rock a crowd or the such. This is just feeling the vibe of Ohbliv's production, picking up the notebook, and just rhyming and getting some things off of his chest and letting his listeners get a glimpse into his life and his philosophy. It's beautiful, no frills hip hop from two skilled musicians who have good chemistry together.
What Will It Take is an easy listen, but it's full of complex ideas. Ohbliv is a talented producer who can make some really creative loops sound simple and accessible, and BlackLiq is a skilled emcee who has a knack for opening up and weaving some really intimate tales as he rhymes.
| | |
| --- | --- |
| Title: | Blackliq x Ohbliv - What Will It Take |
| Label: | Man Bites Dog |
| Year: | 2022 |
| Rating: | 8/10 |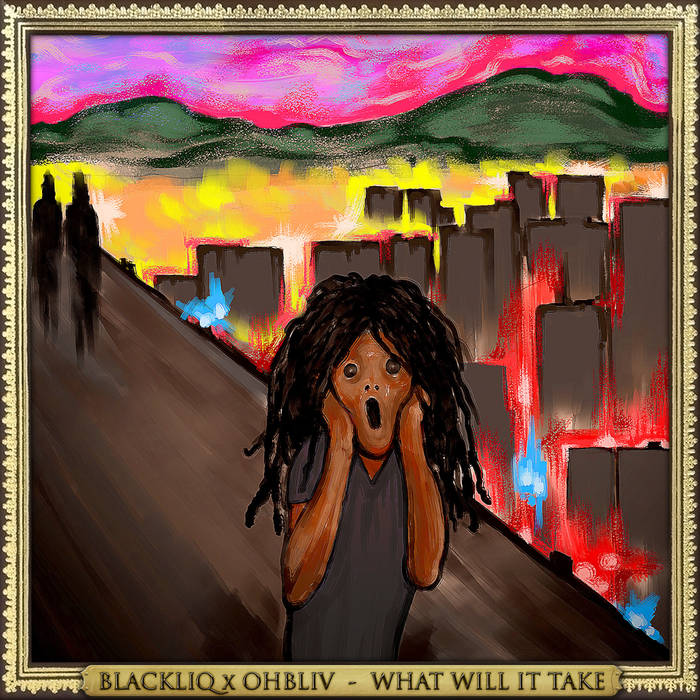 Previous: MC Pauze - Through Time
Next: Little Simz - No Thank You