Ben Buck x BoomBaptist - The Marquee
Written by Chi Chi Thalken on December 14, 2021
Ben Buck and BoomBaptist have been staples of the Austin hip hop scene for a few years, with both artists delivering a wide variety of projects and killer live shows. Since releasing Speaker Bump Deluxe in October of 2020, Buck has released some singles and instrumentals, but now that he teamed up with BoomBaptist, he's ready to step back on the mic and deliver some killer raps with The Marquee.
Even thought Buck is a talented producer himself, sometimes it's nice to hand off that duty to someone else who can push you in a different direction, or just let you focus on your job on the mic. Either way you slice it, BoomBaptist is bringing that heat with the beats on this project, and it's clear that Buck is feeding off of that energy and going as hard as he can over the course of seven tracks. On the beats, BoomBaptist is giving you a little bit of the MidWest, a little East Coast, and a little West Coast, but wherever the style might shift, you can be guaranteed that the beats are soulful, funky, and banging - just full of energy. This is the type of release that you should only ever listen to at a high volume, and never in the background. It just demands that kind of attention from you. Once you give it that attention, though, you will be deeply rewarded with grooves that will immediately get your head nodding, your feet tapping, and your hips swaying. On top of all that, Buck is coming hard on the mic, delivering a killer combination of autobiographical raps with battle raps and good old fashioned party rocking raps. Buck has a ton of charisma on the mic, and he's giving you plenty of clever wordplay and punchlines that will bring a smile to your face, and then cleverly sneaking in a lot of personal lines under the radar to balance everything out and give the project some substance.
The Marquee is a ton of fun to listen to, but I have to imagine that this music is best enjoyed live. It just has that energy to it, and Ben Buck and BoomBaptist have a ton of chemistry and charisma that I'm sure translates well on stage. Until you get a chance to see them in person, though, you've got an EP that is all killer.
| | |
| --- | --- |
| Title: | Ben Buck x BoomBaptist - The Marquee |
| Label: | S/R |
| Year: | 2021 |
| Rating: | 8/10 |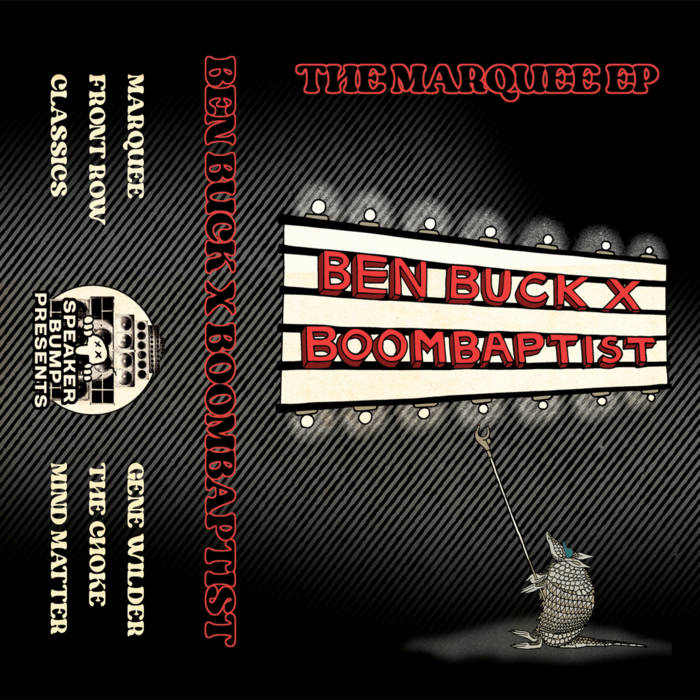 Previous: DJ Harrison - Tales From the Old Dominion
Next: R.A.P. Ferriera - the Light Emitting Diamond Cutter Scriptures