Bag of Tricks Cat - Milk and Vodka
Written by Chi Chi Thalken on December 7, 2021
Bag of Tricks Cat is an emcee from Phoenix who has been releasing music for about a decade now, best known for his collaborative albums with Mega Ran and his solo album, Felix Shevrolet. Just this past July he gave us The Bad Luck EP. Now he has returned with a year-end EP, Milk and Vodka.
The title of this EP comes from the collaboration between Cat and Los Angeles producer Vodka Gravas. I don't know if these two have plans to work on any sort of bigger or grander project in the future, but for now they are giving us a very simple and straightforward EP to listen to. This is just a collection of five songs with modern West Coast boom bap beats, pop friendly hooks, and a bunch of guests to spice things up. Cat teams up with Mega Ran to have fun making fun of themselves with "Hypochondriac," but then he gets serious as he dissects a relationship from his younger years on "I Don't Hate You Anymore." Cat rides a similar vibe on "Wouldn't Change," talking about the lessons he's learned along the way, and Molly Mawlz adds a nice sung hook to "By the Time the Leaves Change." This all builds up to the posse cut, "On My Way to the PHX," celebrating the scene that's built up in the desert over the past decade as he shares the mic with The Game, Whitney Peyton, and Willy Northpole. The song is big and fun and has a great soulful hook, the perfect note to end the EP on.
Milk and Vodka is a low stakes release at the end of the year for Bag of Tricks Cat that manages to find plenty of high notes. He finds room to add some depth and give you some fun sing-along songs as well that will probably become staples of his live set going forward.
| | |
| --- | --- |
| Title: | Bag of Tricks Cat - Milk and Vodka |
| Label: | S/R |
| Year: | 2021 |
| Rating: | 8/10 |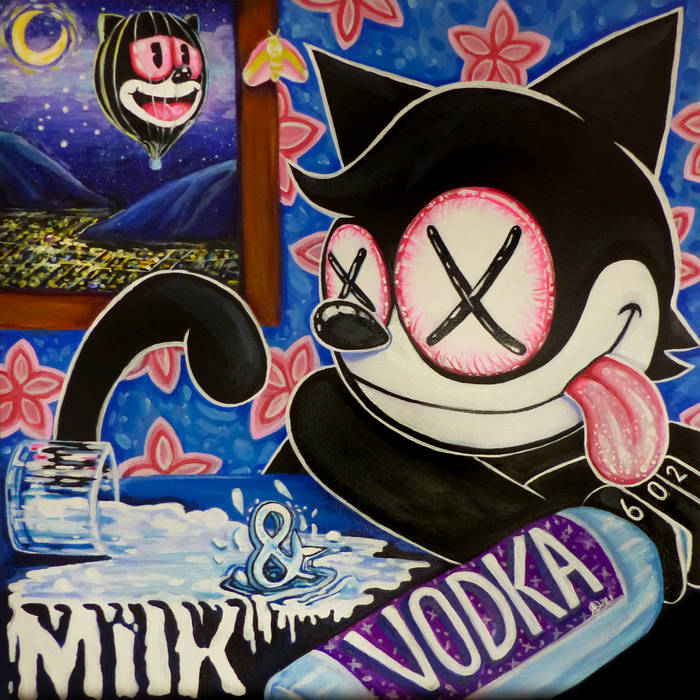 Previous: SkyBlew x Navo the Maestro - Keys of Light
Next: Skipp Whitman & ANIMALMILK! - 8K