B.Dolan - Vault
Written by Chi Chi Thalken on April 26, 2021
Providence artist B.Dolan has accomplished a lot in his career, but he's not one to rest on his laurels, which is why he continues to add to his resume as he gets older. Most recently, that means that he's gone from being described as rapper/activist to rapper/activist/screenwriter/composer. What that means is that a couple of years ago he teamed up with actor/director/screenwriter Tom DeNucci to write a heist movie set in 1975 Providence, Vault. B. Dolan then took it upon himself to write the music for the film. Indie distribution for film and music obviously got thrown for a loop with COVID-19, but now we finally get the score to the movie released as an album.
Most people know B.Dolan as a hip hop artist, but with Vault, they weren't trying to do anything anachronistic with the music, so that meant a whole new challenge for B.Dolan as a songwriter and composer. For the project, he teamed up with experienced hands like Chris Gilroy, Craig Dreyer, Steve Okonski, James Diotte, Jenavieve Varga, Elmo Zapp, and Lavando Thomas, who all chipped in with arrangements as they took the music to full orchestration. Going into this project, B.Dolan had in mind classic '70s scores like those written by Isaac Hayes and Quincy Jones, and you can certainly hear that when you press play on Vault. These aren't bad influences to have, but if you only stuck with the first track or two, you might think that B.Dolan was just trying to rewrite their scores. However, once you get a few tracks in, the score to Vault takes on a life of its own and can exist as its own thing. In fact, listening to Vault as a whole, with it's gritty orchestral soul built around horns, organ, strings, and guitar, has me more thinking of Brooklyn retro soul acts like El Michels Affair and other groups you might find on labels like Daptone, Colemine, or Big Crown. As an added bonus to all this, Dolan also thought ahead and created a limited edition sample pack version of the album, so hopefully some dope producers will flip this score into something new.
Vault is a great first step in a new direction for B.Dolan. He's not yet at the pantheon level of orchestral soul scores, but this is still some really good cinematic instrumental music with plenty of funk. It's incredibly enjoyable, and hopefully we'll get to see Dolan sharpen this new sword for years to come.
| | |
| --- | --- |
| Title: | B.Dolan - Vault |
| Label: | S/R |
| Year: | 2021 |
| Rating: | 8/10 |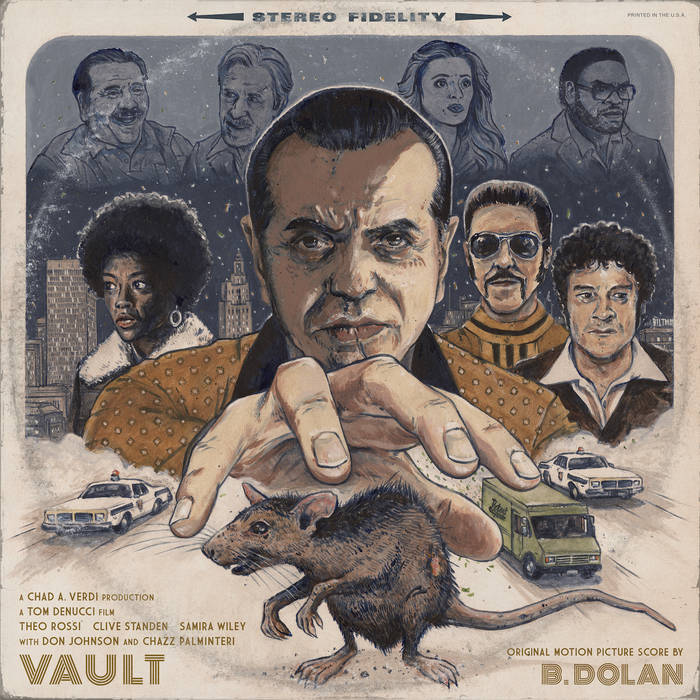 Previous: Royal Air Moon - Warm Me Like the Sun
Next: Cryptic One x Jestoneart - Pirata