Andrea Swensson - Got to Be Something Here: The Rise of the Minneapolis Sound
Written by Chi Chi Thalken on July 8, 2021
Andrea Swensson has long been a contributing member of the Minneapolis music scene, whether it be as host of The Local Show on 89.3 The Current or working as Music Editor at the city's late alt-weekly, City Pages. In 2017, University of Minnesota Press released her book Got To Be Something Here: The Rise of the Minneapolis Sound. In 2021, it was rereleased in paperback, now with a new foreword from Jellybean Johnson.
Most non-fiction books will spell out their thesis at the beginning, but few make the case for their intervention as how necessary it is as Swensson. She does this by pointing out that if you ask some about the music of Minneapolis, chances are that they will mention Bob Dylan's origin story, and then jump forward to Prince and the indie rock of the '80s. In doing so, people create an erasure of nearly two decades worth of music, largely from the Black population in the Twin Cities. In realizing this, Swensson sought to right a wrong, and went to work documenting all of the incredible music made in the '60s and '70s in the Twin Cities that most people are unaware of. Why does this matter? Well, for one, the tale of the music scene completely parallels the story of race relations, politics, and city planning in the area. You're not just learning about who made what record, you're learning about the deeply rooted factors (spoiler alert: racism is a major reason) that kept the music scene always on its feet and on the move every couple of years. Secondly, you're also learning that people like Prince, Jimmy Jam, and Terry Lewis weren't created in a vacuum, just popping up out of nowhere in the late '70s and early '80s to reinvent pop music. No, they all came from a place, and wouldn't you know it – they succeeded because of all the hard work laid down from friends and family over the last two decades before they started releasing records. To accomplish all of this, Swensson did a lot of research and conducted a ton of interviews, and over the course of the book she's able to construct a narrative that isn't just informative, it's also incredibly engaging and entertaining. You get the meat and potatoes of the societal factors and important historical moments that shape the music scene, but you also get introduced to a lot of colorful characters along the way that help bring the history to life.
Got To Be Something Here is an important and necessary book, but it's also a really fun read. Swensson clearly writes with a lot of knowledge, but also with a lot of love for all of the musicians who toiled away in the Twin Cities without ever getting their proper respect. Hopefully this book will not only educate you, but will inspire you to go listen to a lot of these overlooked gems.
| | |
| --- | --- |
| Title: | Andrea Swensson - Got to be Something Here: The Rise of the Minneapolis Sound |
| Label: | University of Minnesota Press |
| Year: | 2021 |
| Rating: | 9/10 |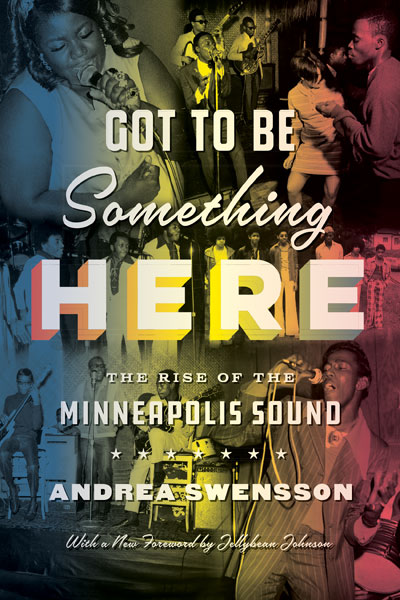 Previous: BLKrKRT - Ancestors II (B-Sides)
Next: Tarriona 'Tank' Ball - Vulnerable AF