Adrian Younge & Ali Shaheed Muhammad - Jazz Is Dead 011
Written by Chi Chi Thalken on May 19, 2022
At the beginning of the pandemic in 2020, Adrian Younge and Ali Shaheed Muhammad launched their label, Jazz Is Dead. They had been planning this for quite some time, and they were sitting on some excellent material based on collaborating with older jazz artists, so it felt like they needed to plow ahead, even if they couldn't perform anything live and promote it like they'd like to. The good news is that audiences were receptive anyway, and we've gotten some truly excellent albums from them over the past two years, including Roy Ayers, Marcos Valle, Azymuth, Doug Cairn, Gary Bartz, Joao Donato, and Brian Jackson. Now, as they gear up for another run of collaborative albums with some more established jazz artists, we get Jazz Is Dead 011, a compilation giving us a sneak peak at what's right around the corner.
On this compilation, we get collaborations with Henry Franklin, Lonnie Liston Smith, Phil Raneline, Wendell Harrison, Katalyst, Jean Carne, Tony Allen, Garrett Saracho, and The Midnight Hour. If you're familiar with any or all of these artists, it won't take much to get you excited because you know what's in store in the coming months. If you only know one or two, or even none, now is the perfect time to dive into this album and get a feel for some groundbreaking jazz musicians that might be right up your alley. That's one of the beautiful things about Jazz Is Dead – they aren't married to just one style. Over the course of this compilation, we get smooth West Coast cool jazz, soul/jazz, vocal jazz, free jazz, Latin jazz, and more. That's the great thing about this whole endeavor – Adrian Younge and Ali Shaheed Muhammad have done the work in terms of getting a house band together and being excellent players/arrangers/bandleaders, so they can easily adjust their style to whoever they want to work with and put that legend in a position to succeed. They clearly do their homework and work with the artists closely to fit exactly what they want to do. And if this compilation is any indication, we are in for some really great albums coming very soon.
Jazz Is Dead has had a great run in its relatively short lifespan so far. As Jazz Is Dead 011 indicates, they are far from done. We've got a lot more treats from this label that will further elevate and introduce these artists to a contemporary audience.
| | |
| --- | --- |
| Title: | Adrian Younge & Ali Shaheed Muhammad - Jazz Is Dead 011 |
| Label: | Jazz Is Dead |
| Year: | 2022 |
| Rating: | 8/10 |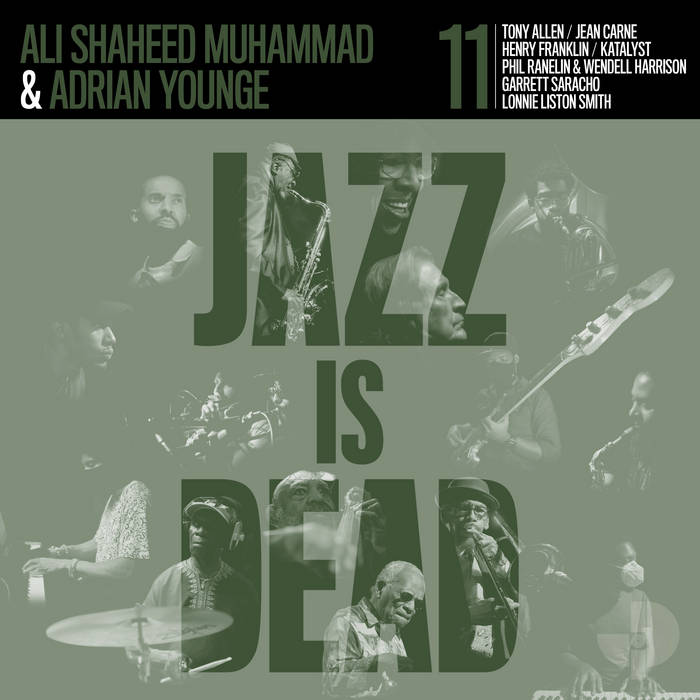 Previous: sign one - The Mighty Highs and The Lowly Lows
Next: C.Shreve the Professor & D.R.U.G.S. Beats - Must Be The Drugs