A.D. Carson - iv: talking to ghosts
Written by Chi Chi Thalken on April 28, 2022
About five years ago, A.D. Carson made some waves when, as a grad student, he turned in a peer-reviewed hip hop album called Owning My Masters: The Rhetorics of Rhymes & Revolutions as his doctoral dissertation at his Rhetoric department at Clemson. He then made waves once again when he got hired and assumed the title of assistant professor of Hip-Hop & the Global South at the University of Virginia. While he's spending plenty of time these days teaching in classrooms and presenting at academic conferences, he never stopped making music and rhyming. His last project, i used to love to dream, came out in 2020. Now he's back with a new project, iv: talking to ghosts.
Like a lot of us these days, A.D. Carson is struggling to make sense of where we are at as a country, as a society, or even as a world. Or, in his words, "i won't call it "a new normal." there's nothing normal about it…i refuse to accept this current hell, & i don't believe in the concept of better hells." In that spirit, Carson really goes deep and gets extremely personal with his lyricism on this album. Carson has a really clear delivery with a smooth flow to it, and it's really interesting to hear these moments where you can hear the different influences seep into his delivery, balancing how he grew up in Illinois but has now spent a large chunk of his adult life in the South. Like at some points you can pinpoint some underground Chicago emcees as influences, but then at other times you can hear the slang and drawl of the Carolinas come through. Then, of course, at other times you get some spoken word delivery from Carson where it becomes a third thing that fits alongside everything else. You also get this balance in the production, where Carson brings in beats from marcus "truth" fitzgerald, vintage, ted coffey, and deiontrae lawrence. They come from different angles to make a well-rounded album, where sometimes you get bit more of that bass-heavy Southern style, and other times you get a more introspective boom bap. Sometimes you might get some blues seeping in, other times you might get some '80s R&B informing the track. Whatever it is, you can be sure that Carson is stepping to the mic to provide some thoughtful commentary about the turbulent times we are living through. The key here is that he never gets up on his soapbox about it, he just writes some beautiful poetry to get you into his state of mind, to provide some really smart analysis of the social and political factors at play, and to provide some personal narratives to give everything that human touch. When you put it all together, you get this really moving, emotional hip hop project that speaks to how a lot of people are feeling these days.
A.D. Carson has been carving out his own lane for a short while now, and iv: talking to ghosts is no exception. It's musically adventurous while still remaining accessible, with beautiful and thoughtful and timely poetry that really gets to the heart of the turmoil that a lot of people find themselves in these days.
| | |
| --- | --- |
| Title: | A.D. Carson - iv: talking to ghosts |
| Label: | S/R |
| Year: | 2022 |
| Rating: | 9/10 |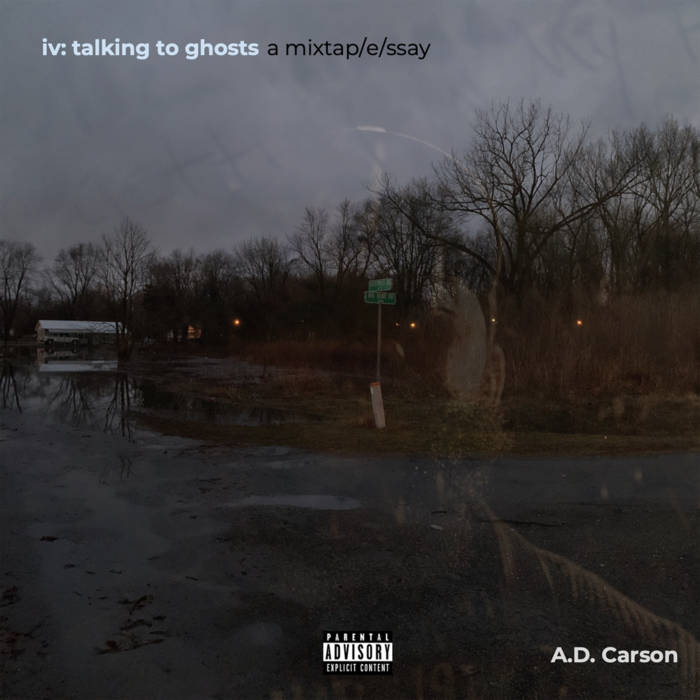 Previous: Rebecca Vasmant - Dance Yourself Free EP
Next: Rel Mccoy - Melancholy Flowers