700 Bliss - Nothing to Declare
Written by Chi Chi Thalken on June 2, 2022
700 Bliss is the collaborative project between Moor Mother and Philly producer DJ Haram. They first started working together in 2014, and their first release came in 2018, when they dropped 700 Spa EP. Both artists have been very busy since that time, with multiple albums and different collaborations under their belts. Now things have finally lined up for the two to release their first full-length album, Nothing To Declare.
If you're not familiar with their first EP, or maybe you're a Moor Mother fan who hasn't heard Haram's music, you might not know what to expect. Don't worry. When you press play on Nothing To Declare, you'll quickly understand why these two women found each other as creative partners. Over the course of the album, you're getting challenged from every direction, with a mix of noise rap, experimental electronic music, dance music, free jazz, and punk. Traditional pop song structure was crumbled up and thrown out the car window several exits back, and Moor Mother isn't one to spoon feed you anything with her lyrics, either. She's crafting this abstract poetry that often feels like a word collage that slowly comes into focus as you piece the words and phrases together over the course of a musical movement. Every so often, though, she'll drop a line with such a biting truth to it, it will cut through all the noise and hit you in the face like a ton of bricks. This is the type of album where you just have to trust in the vision of the two artists, buckle up, and go along for the ride. It's a bumpy ride full of twists and turns, but it's also an exciting and unpredictable ride riddled with possibility. It features daring musicality and poetry that will make you think and then rip your heart out when you least expect it. It's an album that is so dense and layered, you can only soak in a portion of the album with each pass through. The good news is that it's also so intriguing, you'll want to keep coming back for more.
Nothing To Declare is an exciting and huge step for 700 Bliss. With their first full-length album, they've crafted something bold and unique. It's an album that demands a lot out of their listeners. However, if you're willing to put in the time with the album, you'll be greatly rewarded for taking a chance on something different.
| | |
| --- | --- |
| Title: | 700 Bliss - Nothing to Declare |
| Label: | Hyperdub |
| Year: | 2022 |
| Rating: | 9/10 |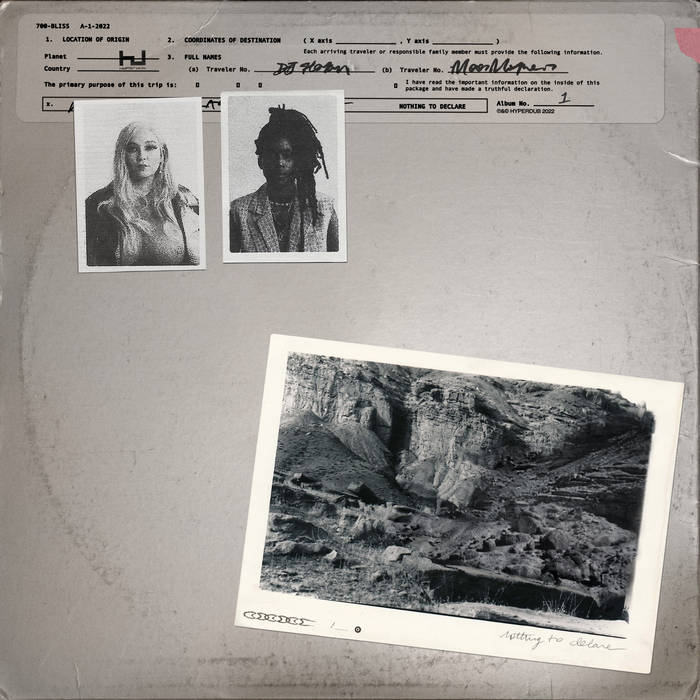 Previous: Nikitch & Kuna Maze - Back & Forth
Next: GRAHAM77 - First of All