Uncommon Nasa - Only Child
Written by Chi Chi Thalken on August 6, 2021
Ever since he officially changed his name to Uncommon Nasa, the New York artist has been steadily crafting a series of albums that both serve as an autobiography, but also connect him to the bigger story of his city and the hip hop culture he came up in. This includes albums such as The Land of the Way it Is, New York Telephone, and Halfway. He now continues this narrative with a new perspective on his latest full-length, Only Child.
Back when Uncommon Nasa made New York Telephone, he included production from Black Tokyo, Lyle Horowitz, and Messiah Muzik. After that project, he knew he wanted to work on a project with each of those artists. There was just something to their production styles that spoke to him. He worked with Black Tokyo almost immediately, as they teamed up to make Halfway. Recently, he worked with Horowitz on Ornate. After a few years and other projects came and went, Uncommon Nasa knew he had to team up with Messiah Muzik to make Only Child. As the title implies, this album is about exploring Nasa's upbringing as an only child growing up in New York, and how that affected him as he navigated his way into adulthood and found his path. Working your way through the album, you can get a sense for how Messiah Muzik's gentler and more melodic approach to his production style gives the album the space and warmth it needs for Nasa to really open up on the mic and tell these stories. If you've spent time with his music before, you know that Nasa has a really clear and direct way of delivering his lyrics on the mic, and this album is no exception. With the theme of this album being his upbringing as an only child, the project lends itself well to Uncommon Nasa the storyteller on the mic, which comes through in a number of great songs. There's "U68," which tells the tale of a regional UHF channel that sought to compete with MTV in its early days and exposed Nasa to all sorts of new music. There's the title track, which does a great job of discussing the social awkwardness that can come from being an only child. There's "Vincent Crane," which talks about the joy of discovering new music through the lens of sampling. There's "The Ballad of Metal Mike," which does a great job of creating a framework for how Nasa came of age in the city by checking in with his run ins with this particular personality of the course of several years. It's the type of album that is accessible and will scratch that underground hip hop itch for you, but it will really reward those listeners that really want to get lost in some really personal storytelling and give a perspective that isn't often explored in hip hop.
Only Child is a mature and thoughtful album from a long-established artist in Uncommon Nasa who still manages to find all of these unique angles to talk about his life and connect with people through his music. It's got such depth to it and it's so personal, each time you listen to it your connection with the album just grows deeper.
| | |
| --- | --- |
| Title: | Uncommon Nasa - Only Child |
| Label: | Uncommon Records |
| Year: | 2021 |
| Rating: | 9/10 |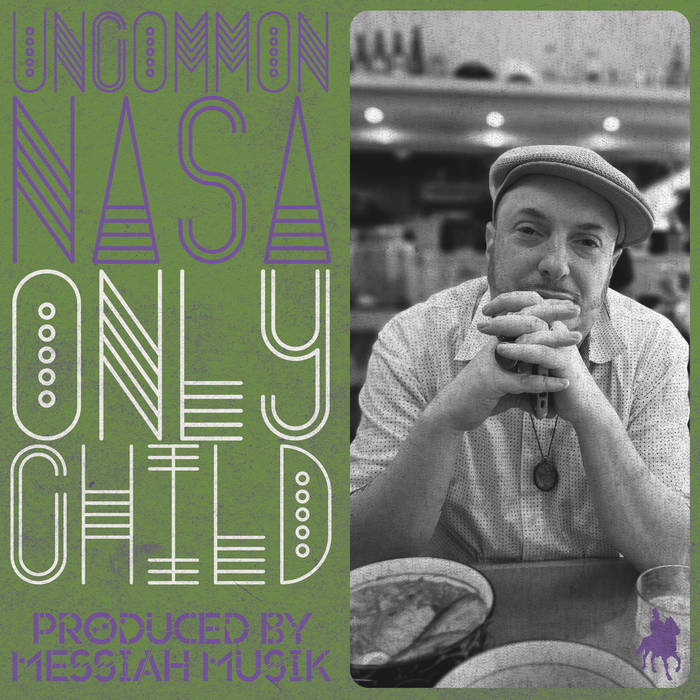 Previous: Brian Jackson, Adrian Younge, and Ali Shaheed Muhammad - JID008
Next: Secret Stages 2021: In Review