Two Weeks Notice - A Calm, Measured Response (Extended Play)
Written by Chi Chi Thalken on January 15, 2021
Five years ago, we got the first album from Two Weeks Notice, the duo consisting of Mikhal kHill and Tribe One. They had toured extensively together, and the partnership was born out of a desire to collaborate on the road, but when it came time to record the album, they threw everything out the window and wrote and recorded everything in two weeks while simultaneously booking a tour. Over the years since then, they've been working on stuff together here and there, but real life and other projects kept the next release from coming to fruition. That is, until Ceschi approached them about doing a Freecember release for Fake Four. Once again, they threw all of their previous material aside and got to work on a brand new EP, A Calm, Measured Response (Extended Play).
A Calm, Measured Response (Extended Play) caused a few different thoughts to hit me all at once. One was just how much fun it was to hear kHill and Tribe One to go back and forth on the mic again. Two was how much fun it was to hear them having fun together making this EP under a time crunch that forced them to not overthink anything. Three was how kHill keeps evolving as a producer – this isn't his flashiest work, but it's low key some of his best and most inventive work as he hits you with these crazy lo-fi beats. Four is that when you have two talented veteran artists like kHill and Tribe One, who both balance their nerdy senses of humor with really moving heart-on-their-sleeve lyricism, you can't ask for much more out of a six song EP. You get some fun shit-talking on songs like "Dwayne "The Rock" Johnson," a sequel to "Liam Neeson" from their first release, and "Can't Ever Hold Us Down," but that gives way to more serious and introspective songs like "Drown" and "Falling Up," but it ends on the really uplifting note of "Getting Better," which allows Tribe One's optimistic camp counselor side shine through and make you feel like you can go out and do anything.
A Calm, Measured Response (Extended Play) should not be lost to the ether as the last entry in Fake Four's Freecember, a free release that came out on Christmas day. This is not just some sort of filler release, it's two artists having fun working together, making some hip hop that's both fun and substantive, and making listeners feel like they are included every step of the way.
| | |
| --- | --- |
| Title: | Two Weeks Notice - A Calm, Measured Response (Extended Play) |
| Label: | Fake Four |
| Year: | 2020 |
| Rating: | 9/10 |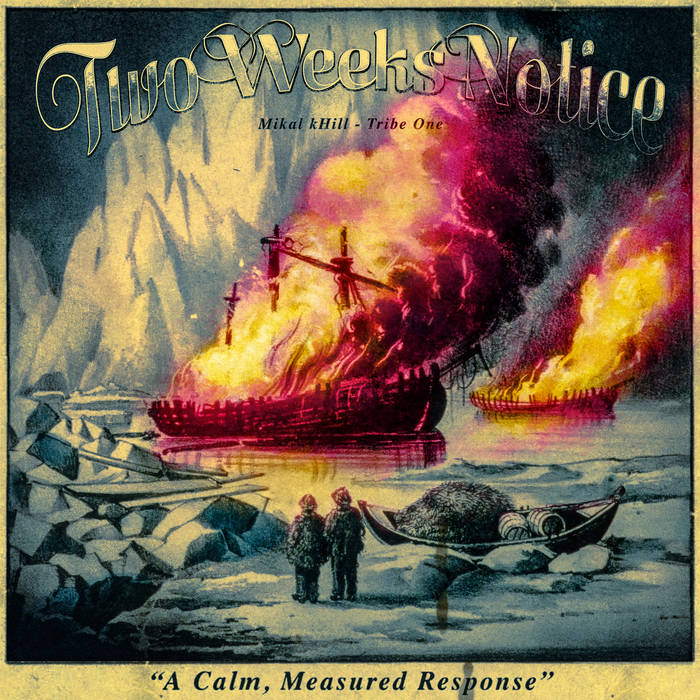 Previous: Top Twenty of 2020
Next: Mayer Hawthorne - Rare Changes