Tall Black Guy & Ozay Moore - Of Process and Progression
Written by Chi Chi Thalken on October 21, 2022
Tall Black Guy is a producer from Detroit who has been releasing music for about the last fifteen years. He's released solo albums on First Word, Coalmine, and his own label, as well as producing tracks for artists like Thaione Davis, Skyzoo, and Phonte, just to name a few. His most recent album came out last year when he dropped Airplane Mode. Now he's back, this time teaming up with emcee Ozay Moore to drop a new album, Of Process and Progression.
Ozay Moore is an emcee from Lansing who has been making music for over twenty years now, formerly working under the name Othello. In that time, he's worked with everyone from Sivion to Stro Elliot to 14KT to Sareem Poems along the way. He had something of a comeback album in 2018, when he dropped In the Wake of O on illect Records. Moore and Tall Black Guy have been collaborating over the years, but usually just a track or two at a time for each other's projects. Now that they have a full-length album together, we get to see them explore their chemistry together as artists and get a sense for how they push each other creatively. It works so well on this album, you might wonder what took them so long to make a project like this. It doesn't matter, though, because Of Process and Progression is finally here and we can appreciate how much is going here. Tall Black Guy can produce some soulful bangers, but he can also get a little weird with it, and he's not afraid to slow things down and produce some really intimate beats as well. This all suits Ozay Moore on the mic, who is just as well-rounded an artist, one who can rock the crowd with confidence, get deeply personal and vulnerable with his lyrics, and also challenge you and give you food for thought. They aren't keeping all this great hip hop to themselves, either, bringing in guests like KUMBAYA, Ohmega Watts, Sean C. Johnson, Jabee, Add-2, Tony Ozier, Malaya, DSTL, Sareem Poems, and Rich Medina. In lesser hands, that could be too many cooks in the kitchen, and the album might end up sounding really messy, but with two veterans like Tall Black Guy and Ozay Moore, they use each artist at just the right time to play to their strengths and elevate the song that they are on perfectly. And ultimately, that's what makes this album so good – the thought and care that these two have put into this project to give you an album that you can keep coming back to.
Of Process and Progession absolutely bangs, and it's a ton of fun to listen to. And if that was the only level that the album delivered on, it would still be pretty enjoyable. However, when you get Ozay Moore and Tall Black Guy going all in on a project like this, that's just the beginning, as they open the album up and find all sorts of room for experimentation, and serious lyrical discussions, all while keeping the album tight and focused and coherent. It's no easy feat, but these two veterans who go together like peanut butter and jelly have pulled it off.
| | |
| --- | --- |
| Title: | Tall Black Guy & Ozay Moore - Of Process and Progression |
| Label: | Coalmine Records |
| Year: | 2022 |
| Rating: | 8/10 |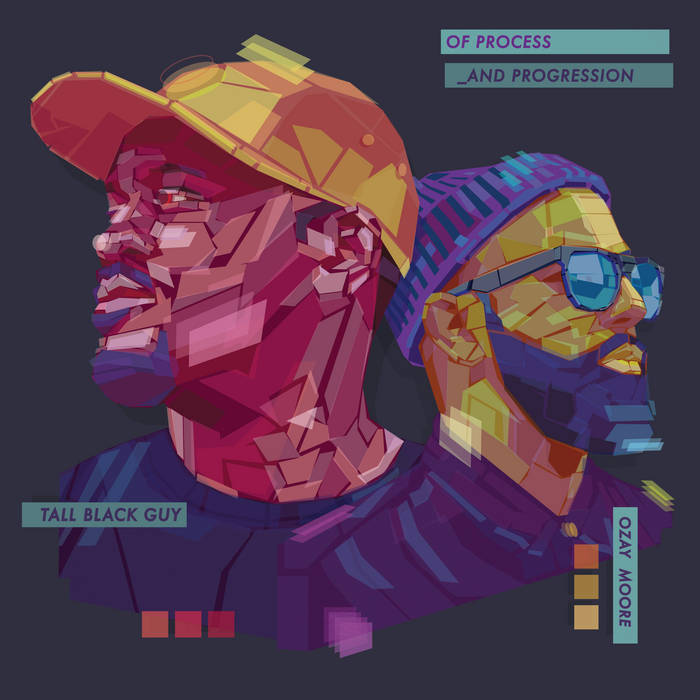 Previous: Yamin Semali - Yamin's Supreme
Next: LTF - Cinematic Wax