Sankofa - The Sonny Vaccaro Years
Written by Chi Chi Thalken on October 19, 2022
Few artists have been as busy as Fort Wayne emcee Sankofa in 2022. With solo projects Legacy Materials and BLKTCHP2, that would have already been plenty, but we also got KofaSoCalfragilistic with producer SoCal, Harikumi's Revenge with Memphis Reigns, and The Beat Shall Inherit the Verse as part of the group The Silversmiths. After all that, he's still not done, because he has a new release to celebrate the start of the NBA season, The Sonny Vaccaro Years.
Sneaker heads will be quick to recognize that Sonny Vaccaro is the guy who signed Michael Jordan to his first sneaker deal, setting a new era in motion with the NBA. How this relates to Sankofa's new project is that for each track, he has picked an NBA player with a signature shoe and written a song about their legacy. Throughout the album, we get songs about Allen Iverson, Reggie Miller, Dikembe Mutombo, Grant Hill, David Robinson, Patrick Ewing, Dennis Rodman, Hakeem Olajuwon, Stephon Marbury, and Shawn Kemp. For each song, Sankofa is bringing in discussion of their legacy, his own personal connection to their playing style and their careers, and the sneakers themselves. To accomplish all of this, he's working with Oakland producer Supermuch. While Sankofa often rocks with producers who rock that mid-'90s East Coat boom bap style of hip hop, for this project, Supermuch is laying down some old school electro beats for Kofa to rhyme over. It gives the album an nice tension, with the tempo pushed slightly higher with different rhythmic patterns and more minor key melodic elements, which then forces Sankofa out of his comfort zone a little as he comes up with a lot of different flow patterns that you might not be used to out of him. Of course, Sankofa is a veteran with a large tool box that he's developed over the years, so he's more than up to the challenge of working in this different style. When you put everything together, you get an album that is fun and novel at first, but then you start to realize how much depth and nuance and musicianship there is to the project, and you start to appreciate it more and more.
The Sonny Vaccaro Years is exactly what you want out of this type of project. It's fun and it will get you pumped for the new NBA season, but it is taken seriously enough by Sankofa and Supermuch that you also get a really solid hip hop album with a distinct sound to it and a lot of lyrical depth.
| | |
| --- | --- |
| Title: | Sankofa - The Sonny Vaccaro Years |
| Label: | S/R |
| Year: | 2022 |
| Rating: | 8/10 |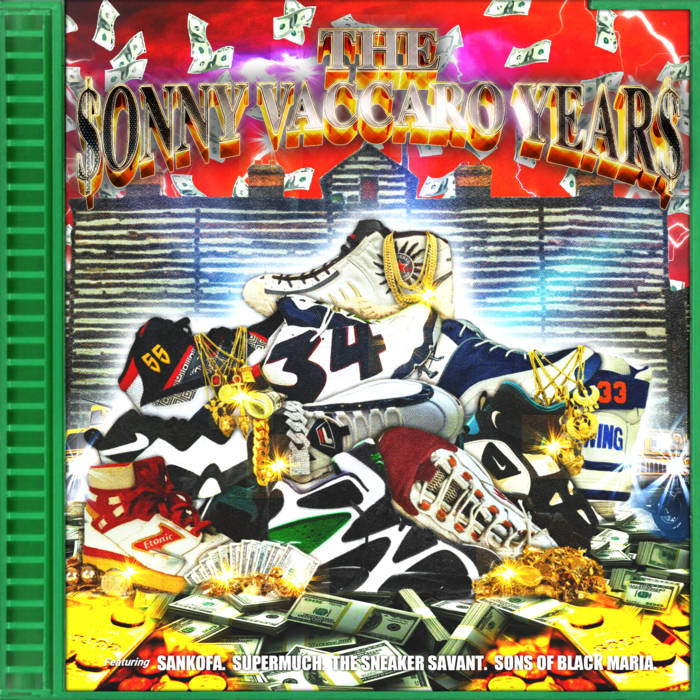 Previous: Joshua Virtue - RAMA
Next: Mykki Blanco - Stay Close To Music