Roy Christopher - Dead Precedents: How Hip-Hop Defines the Future
Written by Chi Chi Thalken on March 19, 2019
Roy Christopher is currently a Visiting Assistant Professor at The University of Illinois – Chicago and a member of the Adjunct Faculty at Loyola University Chicago. Amongst other things, he has contributed to The St. James Encyclopedia of Hip-Hop Culture and served as assistant editor for DJ Spooky's Sound Unbound: Sampling Digital Music and Culture. His latest book is Dead Precedents: How Hip-Hop Defines the Future.
In Dead Precedents, Christopher examines hip hop's relationship to the future, and how it's served as a forward-thinking culture from its inception. One of the main ways in which he creates the framework for this discussion is drawing parallels to cyberpunk, which develops over a similar time frame. It might seem a little odd at first glance, but further examination shows a lot of similarities, especially in terms of their relationships to class and technology, namely how they both draw upon narratives of outsiders using advancements in technology to disrupt the system. Christopher draws a line from the hackers of cyberpunk novels and films to innovators like Grandmaster Flash and The Bomb Squad. This is interesting enough on its own, but where the book gets really interesting is when Christopher starts to examine the term Afrofuturism and science fiction's contentious history when it comes to dealing with race, looking at the lineage of Sun Ra and Octavia Butler giving way to groups like Shabazz Palaces. The other really interesting discussion comes as Christopher examines the intersection of music, technology, and death, whether it be the repurposing of the voices of the deceased through sampling, or reanimating someone like Tupac through the use of hologram technology.
It's short and to the point, but Christopher does a great job of drawing connections and creating points of discussion as he wavers back and forth between hip hop culture, science fiction, technology, and how they have not just reflected on the larger culture but influenced and pushed things forward. Dead Precedents asks a lot of great questions and serves as a nice starting point for a lot of interesting conversations.
| | |
| --- | --- |
| Title: | Roy Christopher - Dead Precedents: How Hip-Hop Defines the Future |
| Label: | Repeater Books |
| Year: | 2019 |
| Rating: | 8/10 |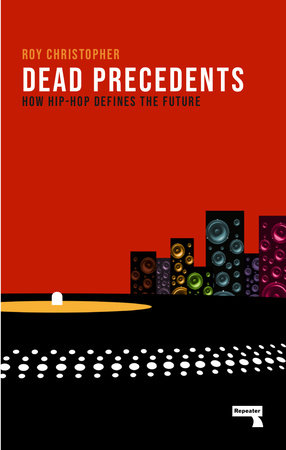 Previous: Chris Conde - Interview - 3-13-19
Next: Olmeca & BeOnd of Acid Reign - Interview - 3-15-19