Rhinoceros Funk & Rico James - Dialectical Ditties
Written by Chi Chi Thalken on August 11, 2023
Rico James is an artist from Vermont who has been releasing music for over a decade now. In that time, he's released a lot of solo material, worked with artists like Jobu and Jibba the Gent, and been part of groups like Jade Relics and Kinetic Fource. This past April, he teased us with a 7" drop that he did in collaboration with Bronx emcee Rhinoceros Funk. Now they are back with their album together, Dialectical Ditties.
Rhinoceros Funk is an artist from the Bronx who has been around for a while and is something of an underground legend, except he never really had that breakout moment that some of his peers did. On the other hand, when you talk to someone who knows the New York underground scene, they put respect on his name. The good news for Rhinoceros Funk is that because he's still making music, there are always new people discovering his work. In the case of Rico James, one listen to Dialectical Ditties, it only takes one quick listen to realize where the connection to Rhino was. James clearly came up on some East Coast boom bap, which is Rhino's bread and butter, and these two really feed off of each other's energy over the course of eight songs. James just cranks up the energy and the grit and grime, and Rhino just uses the boom and growl of his voice to cut through the noise and deliver some very clear and direct flows. Throughout the album, he's going in on the music industry and hip hop culture, talking about a lot of the fads and fallacies that he's lived through, and often tying that into critiques of capitalism as well. At the same time, he's also repping for the city and the culture that he grew up with, and the criticism is there because the love is so deep. It's a project that feels familiar, and when both artists are bringing it like James and Funk, you get a hip hop project that you can keep returning to.
Dialectical Ditties will hit a sweet spot for those that came up on some '90s underground hip hop. At the same time, it can also serve as an introduction to Rhinoceros Funk and Rico James as two dope artists who have been doing their thing for a while, but they still throw down as hard as anyone else still making hip hop.
| | |
| --- | --- |
| Title: | Rhinoceros Funk & Rico James - Dialectical Ditties |
| Label: | Man Bites Dog |
| Year: | 2023 |
| Rating: | 8/10 |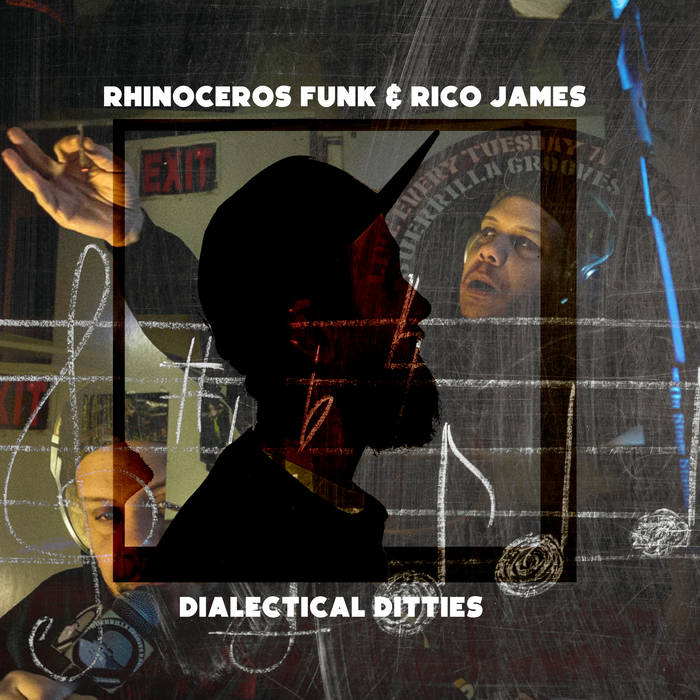 Previous: The Oscillators - The Oscillators
Next: Joshua Woolf - Float