The Perceptionists - Low Resolution: The Paten Locke Remixes
Written by Chi Chi Thalken on August 20, 2018
Way back in the early '00s, there was a supergroup from Boston by the name of The Perceptionists, who released one album, Black Dialogue, in 2005. It was shortly followed by a live album and a remix album by Willie Evans Jr., but then DJ Fakts left the group, and life threw Mr. Lif and Akrobatiks some pretty nasty curveballs, and it wasn't clear that we'd ever get another Perceptionists album. That all changed last year, when Ak and Lif made it bounce once again with their excellent comeback album, Resolution. Two of the tracks on that album were produced by Jacksonville artist Paten Locke, who took the reins on remixing the album, along with producing one new track. The result is a collection called Low Resolution.
Remix albums always rely on the source material as a foundation, and they don't get much more solid than Resolution. Not only was it The Perceptionists first album in over a decade, it was also just a really excellent hip hop album featuring two top notch lyricists with great chemistry together. So when some like Paten Locke is tasked with remixing the album, he's already got an advantage over most in terms of source material. Of course, the flip side is that it takes something extra to make your production sound special when the source material is that good, but Locke had already produced two of the original songs, so it was also clear that he knew certain things that worked really well with The Perceptionists. For the majority of the album, this means cranking up the energy, and finding a good mix between making things bump and creating some tension and discord. He does manage to work in a little breathing room and show that he can produce some more intimate tracks, but the overall feel is one of pushing the energy of the project. The new track, "Bait," fits right alongside everything else nicely, but it's not the standout of the album. That said, if it wasn't the only new track, you wouldn't be holding up this song to that much scrutiny, and it works perfectly in the flow of the listening experience.
Remix albums can be tricky things sometimes, but other times, it just all makes sense and feels completely natural. With Paten Locke stepping up to deliver Low Resolution, he helps breath new life into what was already an excellent album.
| | |
| --- | --- |
| Title: | The Perceptionists - Low Resolution: The Paten Locke Remixes |
| Label: | Mello Music Group |
| Year: | 2019 |
| Rating: | 8/10 |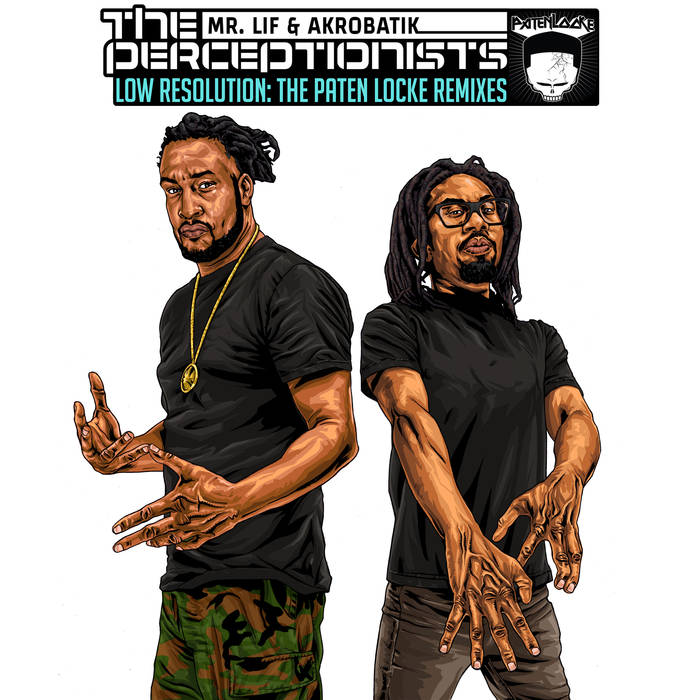 Previous: Secret Stages 2018: In Review
Next: Quickly, Quickly - Over Skies