Nappy Nina - 30 Bag
Written by Chi Chi Thalken on May 11, 2020
Nappy Nina is an emcee originally from Oakland but now residing in Brooklyn. She's only been putting out music for about five years, but in that time she's caught some ears and worked with people like Quelle Chris, Anna Wise, Nick Hakim, Pink Siifu, Stas THEE Boss, and Denmark Vessey, just to name a few. Her last full-length, Dumb Doubt, came just last December. Now she returns with an EP, 30 Bag.
On other projects, Nappy Nina might engage with some bangers, and she might give you some pop hooks to spoon feed listeners a little bit, but most people that have followed her or will follow her career going forward are coming for the lyricism. And that's what you get on 30 Bag. With production coming from Unjust, we get seven tracks of beautiful introspective beats that just allow Nappy Nina to step up to the mic and tell some stories. What is so appealing about Nina's lyricism and her presence on the mic is the way that she doesn't need to raise her voice to tell a loaded story. Instead, she makes her flow sound easy going and conversational as she casually drops lines packed with vivid metaphors, double entendre, and just pure emotional gut punches. It's the type of EP that doesn't seem like that much at first listen, but then as you sit with it, and you start to catch more of what Nina is saying and the subtleties of Unjust's production, and it grows with you. Nina isn't trying to bang you over the head with the ups and downs of her life, or her particular struggles or anything else. She's just working out this shit on the mic, and if you want to catch what she's throwing down, it's up to you to pick it up and unpack these loaded lines.
30 Bag is a slow burn, but if you pay attention, you'll soon how much fire there actually is to Nappy Nina on the mic. This is great hip hop for those that appreciate great lyricism in it's purest form.
| | |
| --- | --- |
| Title: | Nappy Nina - 30 Bag |
| Label: | S/R |
| Year: | 2020 |
| Rating: | 8/10 |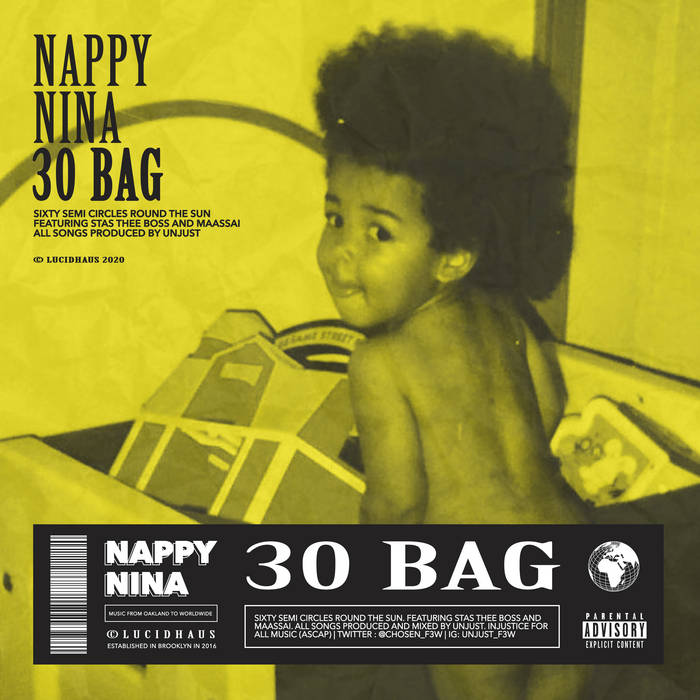 Previous: JustJoey - Sink or Swim
Next: BoomBaptist - Interview - 4-29-20