Korea Town Acid - Metamorphosis
Written by Chi Chi Thalken on April 30, 2021
Korea Town Acid is a producer who was born in South Korea but is now based in Toronto. She's been gaining traction in the Toronto DJ and beat scenes over the past few years, releasing her first project, Mahogani Forest, back in 2018 on Cosmic Resonance. Now she makes her debut on URBNET as she takes her next step forward with her first full-length album, Metamorphosis.
Korea Town Acid is best known these days as a deejay and producer, but its also informative to know that before all that she was a classically trained pianist. Not that she's breaking any sonatas in the middle of the album, but there is a great deal of complex musicality to Metamorphosis that seems to bring these different worlds together. The experience as a deejay is easy to see, as KTA mixes together beats and blends the album in such a way to make the whole listening experience flow perfectly from start to finish. What makes the album really exciting to listen to is the ways in which KTA is able to bring all of these different musical styles together, whether they be EDM, dub, hip hop, trip hop, house, jazz, R&B, or whatever else fits her fancy in the moment. Korea Town Acid does a great job of really picking apart each musical element and understanding how it can fit into the bigger picture and how all these different genres can fit together into a coherent sound. The whole thing comes together beautifully as a bass-driven late night soundtrack that will work perfectly for those sweaty dance floors we just might get to return to this summer. The only minor thing that's holding the album back is the inclusion of a few guest vocalists on the album. No one does a terrible job and ruins a track, but no one steps up to really elevate a track and push it to the next level, either. What you're left with is a handful of guest appearances that are fine, maybe a little generic, but not really necessary when KTA is doing so much heavy lifting with her inventive production.
Metamorphosis is a great step forward for Korea Town Acid, and I'm sure it will turn a few heads her way. As exciting as this album is, though, the best part is knowing that she's only going to build upon this foundation and give us something to look forward to.
| | |
| --- | --- |
| Title: | Korea Town Acid - Metamorphosis |
| Label: | URBNET |
| Year: | 2021 |
| Rating: | 8/10 |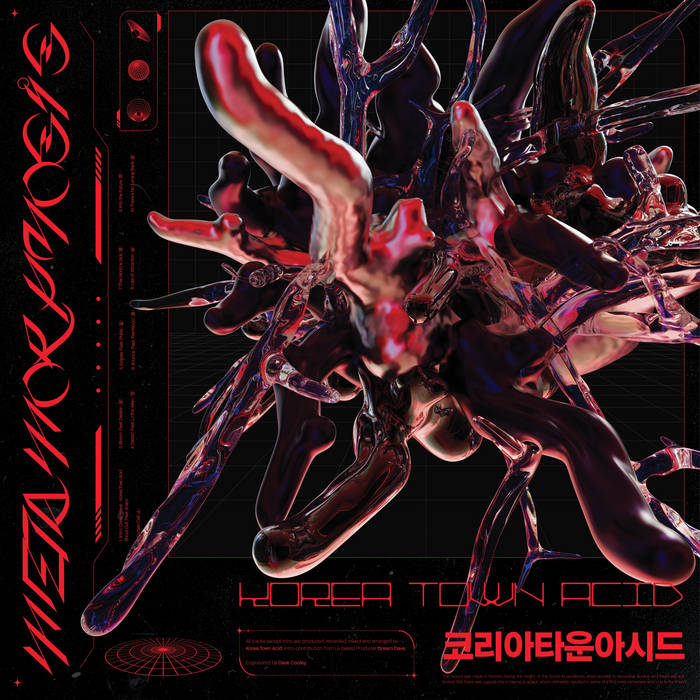 Previous: Sankofa - The Most Delicious Gold
Next: Cadence Weapon - Parallel World