Julien Mier - Industries in the Trees
Written by Chi Chi Thalken on September 13, 2019
Juien Mier is a producer from The Netherlands who has been releasing music for the past decade, working along the way with labels such as Lowriders Collective, Cascade, and King Deluxe. As his career has progressed, hes carved out a completely unique path, making beautiful instrumental music that defies genre, culminating in standout releases such as his 2015 album, Out of the Cloud, and his 2016 EP, Shiny Silver Lining. He now comes back with his most ambitious release to date, Industries in the Trees.
As you might infer from the title of the album, Industries in the Trees is an album inspired by the destruction of the environment, the constant push/pull relationship that humans have with nature, trying to respect it while benefitting from advances in technology at the same time. If that sounds like a lot to swallow, that's because it is. The good news is that Mier is one of the few artists working today that is truly up to the task of taking on a project of this magnitude. Over the last four years, he has been carefully writing, arranging, and recording this music. To properly convey this conflict between technology and nature, Mier took all of melodies written in the digital realm and re-recorded them on acoustic instruments, then re-processed the sounds digitally. The overall sound of the album, beyond this tension caused by the way it was played and recorded, is one that sits somewhere between jazz and classical, more akin to the work that artists like Jason Moran or Kamasi Washington are doing more than any other contemporary hip hop or electronic producers are doing. Of course, what separates Mier from everybody is that he's not all the way in that world, either, since he still comes out of an electronic production background and reminds me the most of Daedelus in terms of his particular production style, so it's never really one thing. Listening to this album really emphasizes how Mier has completely found his own lane at this point. This is an album that demands your full attention, as his complex and carefully plotted out compositions unfold as a deliberate pace over the course of ten songs. His music communicates the complicated dance of humans versus nature, with moments of serene beauty, chaotic energy, discordant clashes, and the hope of a brighter future.
Industries in the Trees is one of the most beautiful, challenging, and rewarding albums to come out in 2019. Julien Mier has continued to push himself and his listeners over the years, and he really raised the stakes with this album. Nothing else sounds like it.
| | |
| --- | --- |
| Title: | Julien Mier - Industries in the Trees |
| Label: | S/R |
| Year: | 2019 |
| Rating: | 9/10 |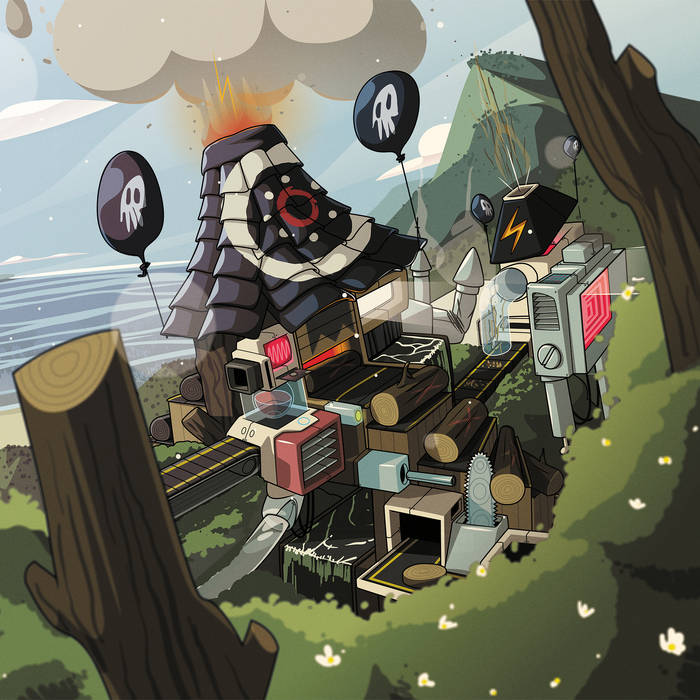 Previous: Von Pea - City for Sale
Next: Wesdaruler - Ocean Drive