Awon & Phoniks - Nothing Less
Written by Chi Chi Thalken on March 24, 2021
Awon is an emcee from Newport News. In the decade-plus he's been at it, he's collaborated with artists like Dephlow, Linkwrust, and Kameleon Beats. His most consistent collaborator, though, has been Phoniks, a producer from Portland, Maine. Over the years, they've given us a lot of great classic hip hop, so it's only right that they started writing together under quarantine. They now have given us their first album in three years, Nothing Less.
If it ain't broke, don't fix it. Years ago, Awon and Phoniks found each other and bonded over a love of classic East Coast boom bap. Phoniks can lay down some sweet soul-sampling beats that just feel natural to groove to, which fits perfectly with Awon's conversational flow and penchant for storytelling with his lyricism. That's exactly what you want out of a Awon and Phoniks album, and that's exactly what you're getting out of Nothing Less. Phoniks is just cooking up tasty mid-tempo grooves like there's no tomorrow, and Awon is hopping on the mic to speak to the issues of the past year or so, both personal and political. He's speaking to the music industry, to hip hop culture, and keeping alive the music that he holds dearly. He's speaking to the racial reckoning happening in the U.S. that's been a long time coming (and has much further to go). He's also speaking to his personal life, and the work he's had to do caring for his family after all we've dealt with in this past year. As he's doing all this, he's bringing in a ton of friends to help him out, from Masta Ace to Anti-Lilly to Dephlow to Blu to Tiff the Gift, just to name a few. Everyone brings their own unique flavor and adds a little something to the album, but it is Tiff the Gift that really shines on "Can't Fool Me," reminding everyone that for all the talent on the Don't Sleep roster, she's the best emcee of the bunch. "Fatherhood" is my favorite song on the album, partly from the lively production that Phoniks puts together, but mostly because of we get to see a sweeter and more vulnerable side of Awon that we don't always get.
Nothing Less delivers exactly what you want from Awon and Phoniks, and it delivers it well. These two have great chemistry together, and they continue their streak of incredibly solid, soulful hip hop albums.
| | |
| --- | --- |
| Title: | Awon & Phoniks - Nothing Less |
| Label: | Don't Sleep Records |
| Year: | 2021 |
| Rating: | 8/10 |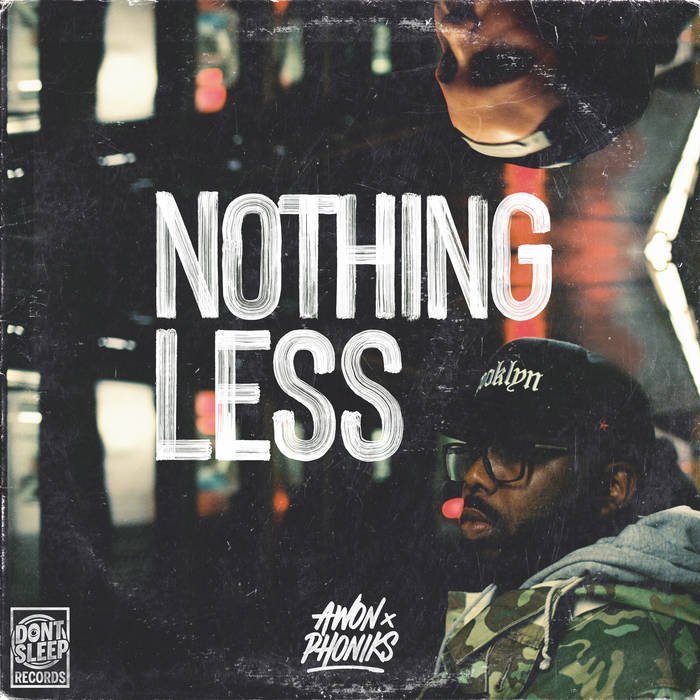 Previous: Nappy Nina & JWords - Double Down
Next: Scuare - Phenomenal