Andy Cooper - Kid Hop
Written by Chi Chi Thalken on September 30, 2022
Andy Cooper is known to hip hop heads of a certain age as one third of the Long Beach group Ugly Duckling. After releasing their last album, Moving At Breakneck Speed, in 2011, we didn't hear from anyone for until a few years later, when Cooper emerged as a solo artist. Since then, he's kept pretty busy, with four full-length albums and a mess of singles and features to his name. His most recent album, Hot Off the Chopping Block, dropped just last year. Now he's taking time to pivot a little bit to a different lane with his first kid's album, Kid Hop.
Now, if you've spent time with Cooper's catalogue, imagining a kid's hip hop album from him isn't the furthest stretch, as his music has always been pretty playful and he's always had a deep respect for the old school hip hop and the break beats. Kid Hop has a different target audience, obviously, and he's dealing with different subject matter, like picking up your clothes, brushing your teeth, learning about science, or having a birthday party. Cooper also isn't rhyming as fast as he is capable of so that the words are clear to younger listeners. With all that said, this album isn't too far removed from the rest of his catalogue, and I mean that in the best way possible. Anyone with kids (or is just around anyone with kids) knows that the pitfall of cheesy or annoying kid's music is always right around the corner. It's always welcome when someone like Cooper can come along and give us music that is for kids, but still has enough funk and musicality to it that adults can enjoy it too. Sure, I'm not going to play a song about going to bed for adults, but you could easily sneak a song like "I've Got To Move" or "P.A.R.T.Y." into a mix for the grown folks, and it would just sound like a fun old school hip hop track.
There isn't enough good children's music out there, and there's even less hip hop for kids that isn't absolutely cheesy and terrible. Now, thanks to Andy Cooper, we can rock a party with the little ones and not have to sacrifice the hip hop cred with Kid Hop.
| | |
| --- | --- |
| Title: | Andy Cooper - Kid Hop |
| Label: | Audio Network |
| Year: | 2022 |
| Rating: | 8/10 |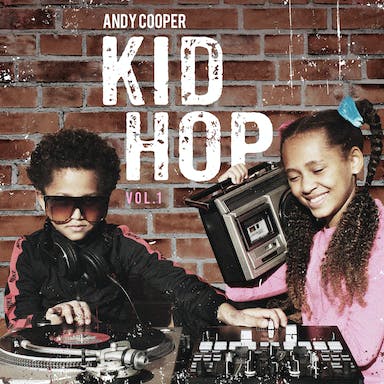 Previous: BLKrKRT - Black Rock & Roll IV
Next: Claud Six - Just in Case We Make It