2Mex - My Fanbase Will Destroy You
Written by Chi Chi Thalken on December 9, 2010
If you watch the documentary This is the Good Life: How The West Was One, there is a segment at the end of the film where different emcees involved with the L.A. underground hip hop scene are contemplating how their careers panned out since the years that they cut their chops at an open mic night at the Good Life Health Food Centre. Some are bitter that others copped their style and became more famous, while others wonder if it was ever meant to be. 2Mex, however, has probably the healthiest perspective - he's grateful. "Whether I'm rich, financially, or not – All my dreams, musically, have come true," he says. "Tenfold." He goes on to mention that because of the support system that he had when he came up, and the fan base he was able to build making his own music, he's been able to travel the world making music and not worry about a day job, and that's something to be happy about.
It's that perspective that drives his latest album, as evidenced by the title. The LA-based emcee has been plugging away for twenty years, whether it's with the Visionaries, Of Mexican Descent, SunGodSun, $martyrs, or any other project he's taken on in that time. The guy loves making music, plain and simple. Feeling that he might be spreading himself a little thin, Sage Francis approached him about releasing and album on Strange Famous with the stipulation that it was the only album that 2Mex released this year, forcing pressure on the project to make it count. With these strictures, I'm afraid I could judge this album too harshly. Not because it's bad, but only because I think this album is on par with other 2Mex albums in my library, but not necessarily a landmark. There are lots of good songs, he tries a lot of different things musically and works with some talented people and things succeed much more than they fail. I could say this about most albums that 2Mex is on, though. Maybe this is all just a testament to the high level that he's set and kept up for himself over the years.
On this album, 2Mex reached out to the production talents of Busdriver, Life Rexall, Nobody, Ikey Owens, Deeskee, Ceschi Ramos, LDONTHECUT, and Single Helix. Even though there are plenty of cooks in the kitchen, the mix of styles is provides some atypical hip hop folded into more typical laid back West Coast hip hop that you might be expecting. Personally, I think he's at his strongest when he's got a slower groove and plenty of room to move in the music so he can play around with the pace of his delivery, but still let the soulful gruff of his voice provide an edge on the mic. Busdriver, his longtime friend and collaborator, has great chemistry with 2Mex on this album. On the opening track, "My Intro Will Destroy You," Busdriver gives him plenty of space to reflect on his career in his lyrics and to set the table for the rest of the album. With "Bluetooth Cyborg" and "Career Suicide for Dummies," Busdriver pushes him with challenging off-kilter glitchy electronic beats, but 2Mex finds his rhythm on both tracks. On "Jolly Rancher," Busdriver provides a beat that is right in 2Mex's wheelhouse, with a simple bass line and drum beat that drop a heavy groove that lets him ruminate about hip hop with the artists verble and maleko.
"Back," produced Deeskee, is one of the unexpected successes on the album, as we get acoustic guitar heavy track with an almost twee indie-rock anthem as 2Mex gives a shout out to all his backpackers. After several listens, I'm still not sure to what to make of "Surveillance," a track done with Ceschi Ramos. I'm not sure if it's just that the music recalls the Postal Service too much for my tastes, or that I'm not sure I quite get the point of the chorus, in which Ramos sings "Just say the word and you will never be disturbed again, surveillance." I appreciate the risk, but I'm just not quite sold on it. Nobody lays down one of my favorite tracks in "Press Your Luck," an almost overwhelming song that sounds like a collaboration between Mr. Oizo and Dr. Dre. It's awesome, to say the least.
The only track I really don't care for is "Rollercoaster," which features Murs and Ariano. When he's in the right mind frame, Murs can destroy just about any emcee around. He's made some amazing songs that rank amongst my favorite of all time. However, when it comes to women, Murs will often lay down some really sexist, juvenile rhymes. He does so here as he talks about a crazy girl who seems like two different people – one cool and one a bitch. 2Mex doesn't do anything with his lyrics to remedy the situation, and the music is some real pop/R&B stuff that doesn't do them any favors. It's a black mark on an otherwise great album.
Above all else, 2Mex is an artist that really has a firm grasp on why he's doing what he's doing as an artist, and is very comfortable with his lot in life. He just wants to make hip hop that's interesting and challenging and fun, and if you're into it, he will really appreciate it. That's something that I can really appreciate.
| | |
| --- | --- |
| Title: | 2Mex - My Fanbase Will Destroy You |
| Label: | Strange Famous |
| Year: | 2010 |
| Rating: | 7/10 |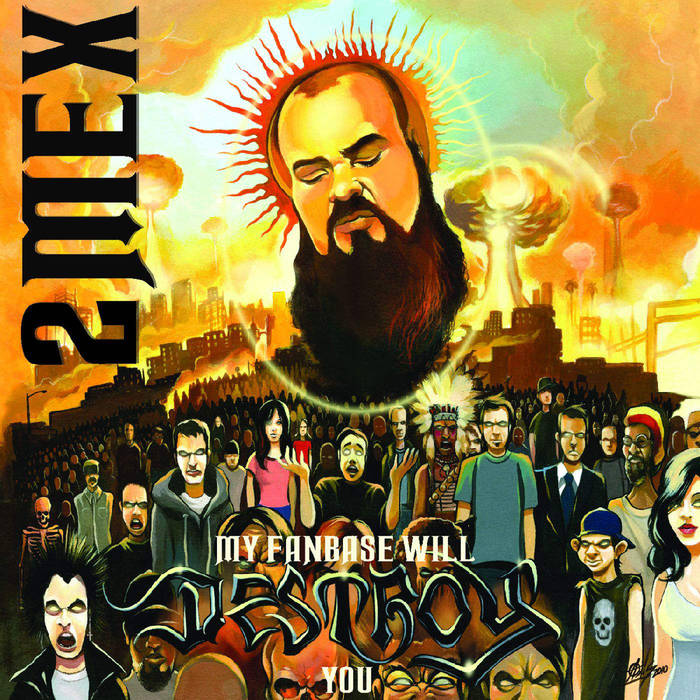 Previous: Ghost Mutt - Sasquatch EP
Next: Aloe Blacc - Good Things