2Mex - Ghostwriting Songs for God
Written by Chi Chi Thalken on February 16, 2021
2Mex is a legend of the Los Angeles underground, with a recording career that spans over two decades, and includes working with a myriad of groups such as Of Mexican Descent, SonGodSuns, Mind Clouders, Shapeshifters, and $martyr, as well as a lengthy solo career. A few years back, 2Mex experienced a serious health scare that resulted in the amputation of one of his legs due to complications from diabetes, and it left many of us to wonder if he'd recover or make music again. Not only has he returned to form, he gave us a full-length album in 2017, Lospital, and The Gentrification EP in 2018. Then he got to work with his brothers in hip hop and gave us the first Visionaries album in fourteen years last year, V. He's still not done, though, because now we get another solo LP, Ghostwriting Songs For God.
Ghostwriting Songs For God was delivered with no advance warning, and with almost no information aside from uploading it to his Bandcamp page, so I don't have a backstory or information about the producers involved with the album to relay. What I can relay is that 2Mex has delivered an album in Ghostwriting Songs For God that stands up against the best in his lengthy catalogue. Over the course of the album, he going in deep about his career, his love of hip hop, his friends and family, his religion, his heritage, and more. Basically, if he's lived it, it's on this album. The beats are bangin' and varied. Most live in the West Coast Underground, but we get some killer gospel coming through on "Jesus," some Tejano on "Aguacate Con Todo," some '80s R&B on "Call Xerelle," and some psychedelic music on "Death Threats," giving us a taste of all the different directions that 2Mex can go and has gone as an artist. We also get a bunch of guests, making this feel like more of a family affair, with Myka 9, Rakaa Iriscience, Tommy V, David Ramos, Splynter, Demazi, Dudley Perkins, Maya Huyana, Phileano, Brian Gazo, Ric Scales, and Deskee all joining in on the fun and once again showing us what a great collaborator 2Mex has been over the years. On top of this, we also get a couple of revived recordings of the late, brilliant Ikey Owens to liven up the album and let 2Mex collaborate with his friend one more time. All of this brings great variety and color to the album, but at the end of the day, this album falls back on 2Mex's raspy soulful voice delivering heartfelt lyrics with a dexterous flow that only a handful of emcees can come close to.
Ghostwriting Songs For God is a really thorough and complete listening experience from a veteran emcee in 2Mex. He's given us so much music over the years, it's easy to take something like this for granted, but the more you listen to it, the more its brilliance will reveal itself and you'll realize that this project deserves to be in conversation with his most heralded albums.
| | |
| --- | --- |
| Title: | 2Mex - Ghostwriting Songs For God |
| Label: | S/R |
| Year: | 2021 |
| Rating: | 9/10 |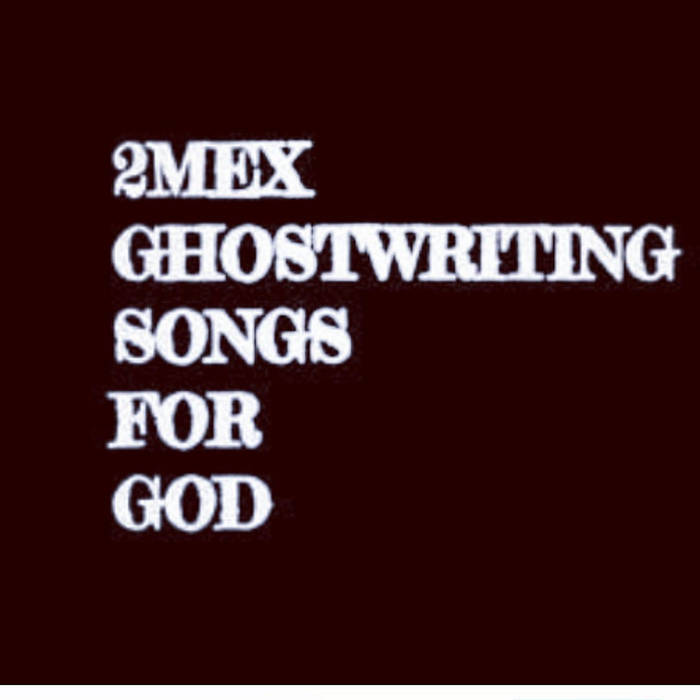 Previous: Myka 9 & Profound - Nine Clouds
Next: Devin Burgess - 2018