kidDEAD - The Man Who Lived Forever
Written by Chi Chi Thalken on May 9, 2022
On August 8, 2021, the world lost Ross Norton, better known as the Nashville-based emcee kidDEAD. His passing caught everyone by surprise, and just like that we had lost another talented artist in the indie hip hop scene well before their time. One positive within all of this is that before his passing, kidDEAD had linked up with a producer in Nashville by the name Nathan Zensen. They had gotten far enough along in their sessions together that it didn't take too much additional work to put together one last kidDEAD album, which is now here in the form of a nine-track project called The Man Who Lived Forever.
If you ask people that had a chance to meet him, spend time with him, or just listen to his music for a while, I believe that most would tell you the thing that made kidDEAD special was that he cared. A lot. He cared about all sorts of causes and injustices, but most of all he cared about people, especially his friends and family. That passion carries through into his music, and it's the way in which he really truly believed in the power of using music to reach people and connect with them that made kidDEAD special. In listening to The Man Who Lived Forever, I was immediately taken back to the handful of times in which I was fortunate enough to spend time with Ross, and how quickly we skipped past the awkward small talk and got down to the things we were passionate about and what really mattered in life. Over the course of the nine tracks on The Man Who Lived Forever, that's who you're getting on the mic. Even when he's talking shit or dropping rhymes with a hint of irony, he's doing so with a pointed purpose, attacking white male entitlement and machismo with his pen, critiquing capitalism, and challenging hip hop culture to be as good as it could be, to not settle for just being good enough.
It's sad to think that this is all we'll get from kidDEAD and Zensen together, because there is a focused energy to this album that really pushes kidDEAD at certain points, and at other points meets him right were he is, creating a wonderful balance to the project. You get some soulful boom bap and aggressive underground beats, but you also get some beautiful reflexive tracks like "Yeah," that leans into kidDEAD's emo/punk background, or indie R&B of "Live," with the powerful and emotional vocals of Sophie Miriam providing a nice balance to kidDEAD's deeply personal lyricism. kidDEAD was also a big fan of collaboration and the sharing of ideas, and we get that in the form of the posse cut, "Cost," featuring BRZOWSKI, Bobby Exodus, and Spoken Nerd. On another album from a different artist, this would have just been some fun shit talk, but kidDEAD lays out the stakes in his opening verse, bringing political rhymes to the forefront, challenging himself, his collaborators, and his listeners to really think about what they believe in and what they are willing to fight for. Fellow Nashville artist and longtime friend Spoken Nerd returns for the song, "You Can Count of Me," an emo-electronic track about worshipping false idols and being let down by those that you hold in high esteem, reminding me a bit of Her Space Holiday back in their Young Machines era. Finally, the album ends appropriately enough with a song simply titled, "Goodbye." One of the things that always made kidDEAD so relatable as an artist is that he was always willing and able to put all of his struggles, his demons, and his past out there, but then always included discussion about how he was trying to grow and change and be a better version of himself. "Goodbye" is a sad and soulful and deeply personal song, but even in the course of making these confessions, he also finds room to remind listeners to not trust cops or chase gold, which is Ross in a nutshell.
The Man Who Lived Forever is a bittersweet listening experience at first, knowing that we'll never get another album from kidDEAD, another collaboration, another tour, another chance for him to forge all of these meaningful connections with people from different walks of life. The more I sit with it, though, the more I was just appreciated what a great place he was in, musically, before he left us, and how if this is my last chance to hear from Ross, it's a truly beautiful and complicated album. More than anything, though, it's a reminder of just how much kidDEAD cared, and how much he used his music to both make you feel seen as a listener, but also challenged to think about what you believe in and what you're willing to fight for. For that, I'll always be grateful for kidDEAD, and for those that worked to help this album see the light of day.
One final note: all proceeds from the sale of this album will be going to Street Works in Nashville, and organization that provides education, prevention, and care to those affected by HIV/AIDS on the inner-city streets of Nashville.
| | |
| --- | --- |
| Title: | kidDEAD - The Man Who Lived Forever |
| Label: | S/R |
| Year: | 2022 |
| Rating: | 9/10 |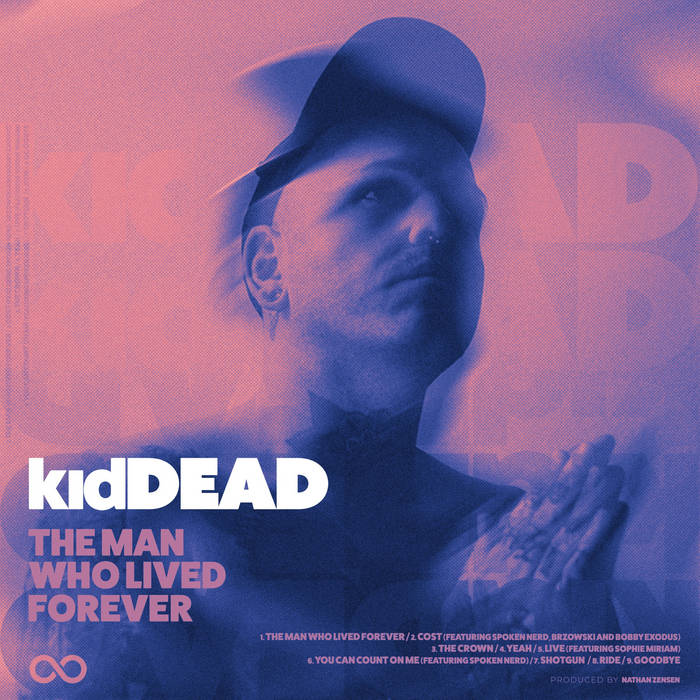 Previous: Chief & TheDoomsdayDevice - Flux Populi
Next: Height Keech - Make Your Own Light