Dregs One, B.C. The Producer - Player Flavors
Written by Chi Chi Thalken on April 20, 2023
Dregs One is an emcee/producer from The Bay Area who has been releasing music since the mid-2000s. In that time, he's worked with artists like Equipto, ill sugi, and Professa Gabel, just to name a few. Just this past fall, he released an album called Sucka Repellent. Now he's back with a new EP done in collaboration with B.C. The Producer, Player Flavors.
B.C. The Producer is an artist who has been part of the Bay Area hip hop scene since the late '90s, so it was only natural for him to hook up with Dregs One to make a project together like this. Player Flavor is an easy project to listen to, because these two are taking it back to the old school and just laying down some good old laid back West Coast hip hop, with just a little bit of the slow jam/R&B flavor to it. B.C. is making sure everything sounds warm, with some really fat bass lines, and then Dregs is just lying things down for the younger generation, with tracks like "History of the Bay" and "Rules of the Game" setting everything straight. It can be a fine line between an older artist laying it down for the younger cats and just turning into some old man raps, but luckily Dregs never crosses that line. It's a real no frills, straight-to-the-point, easy to enjoy type of EP from two veterans who have great chemistry together. It's not rocket science, it's just good hip hop.
Sometimes you don't need to overthink things. Sometimes you just need to call up that cat who's been part of the scene even longer than you have and get together and make some hip hop that bumps. That's exactly what Dregs One and B.C. The Producer did with Player Flavors. It's just two veterans of the Bay who know exactly what their strengths are, and they play to them for six tracks and then bounce. It doesn't get any easier than that.
| | |
| --- | --- |
| Title: | Dregs One, B.C. The Producer - Player Flavors |
| Label: | Audio Vandals |
| Year: | 2023 |
| Rating: | 8/10 |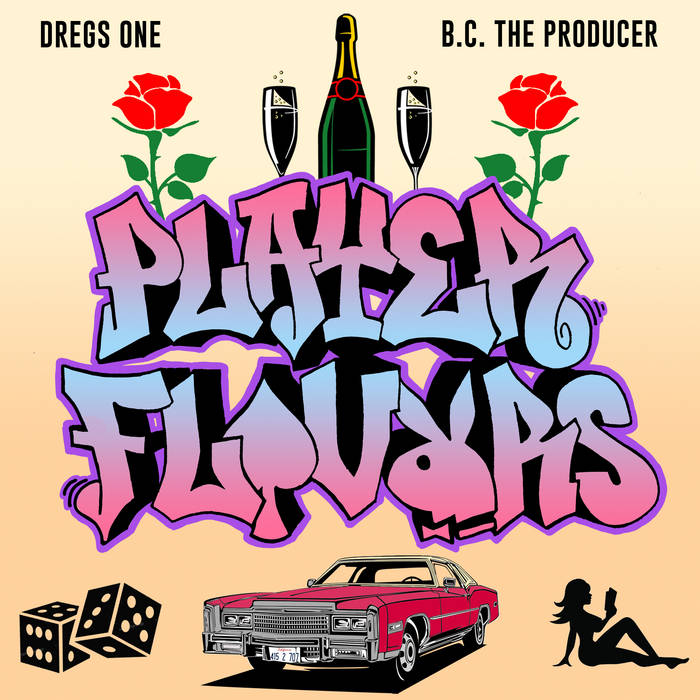 Previous: Kinetic Fource - Kinetic Fource
Next: Ackryte - stillgood