Black Taffy - Six Arrows for Naydra
Written by Chi Chi Thalken on May 16, 2023
Black Taffy is a composer/producer from Dallas who started releasing music in the mid-2010s. In 2019, he made his debut on Leaving Records with the release of Elder Mantis. His most recent album came in May of 2020, when he dropped Opal Wand. Now he's returned with a new EP, Six Arrows for Naydra.
As Black Taffy went into lockdown in 2020, he had never played Zelda before. After three or four months of living by himself with his cat and being uncertain when he'd make contact with another human again, he dove into Breath of the Wild as a form of escape. As any musician might do, he eventually returned to the game with the idea of reinterpreting the music and reflecting his own emotional journey and his relationship to this moment in time with the game. Using an MPC2500, SP404SX, SP303, and a Roland RS-505, he set about on this musical journey of using the game score as inspiration and reinterpreting it to now score his own mental and emotional trek through the global pandemic. It should be noted that the title is a specific reference to an interesting side quest in the game, in which, "Link paraglides down a snowy mountain alongside an ice dragon named Naydra while shooting these malice eyeballs off of her which eventually heals her illness." With that in mind, it's interesting how Black Taffy turns this video game music into his own droning, pulsing, instrumental hip hop that becomes quite meditative when you listen to it. There are good melodic hooks to it, and there is motion to his arrangements that keeps the momentum going, but it is really the type of project where you need to sit with the music with no distractions and just really absorb it and let all of the atmosphere and emotional content just wash over you.
Black Taffy has been an interesting artist since he started releasing music, but this might be one of his most compelling projects to date. In a different context, a project like this could easily be a nerdcore release, but Taffy is approaching from a different angle, and in doing so he has made a project that doesn't require any prior knowledge about Zelda. All you need is some adventurous ears and an open mind, and Black Taffy will do the rest with his creative production, passionate playing, and inventive arrangements.
| | |
| --- | --- |
| Title: | Black Taffy - Six Arrows for Naydra |
| Label: | Leaving Records |
| Year: | 2023 |
| Rating: | 8/10 |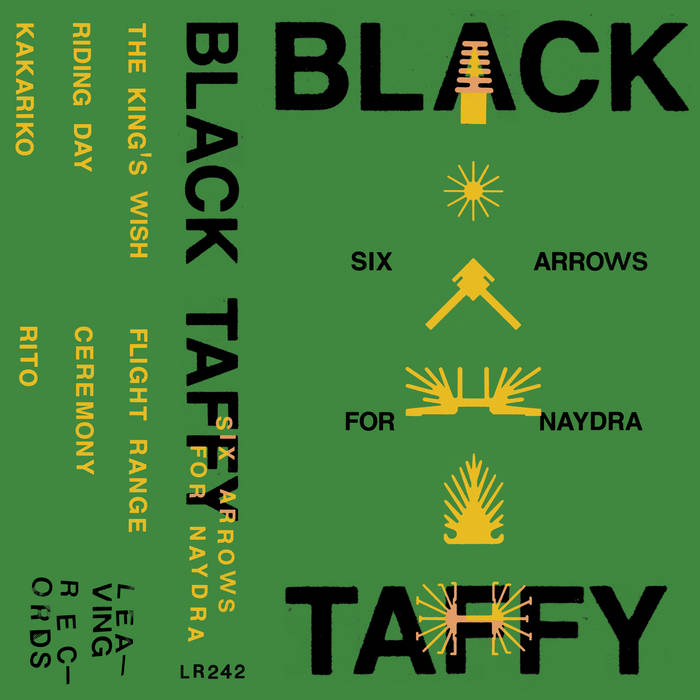 Previous: Nu Vintage - Vibrations in Color
Next: andrew & steel tipped dove - the trumpet's obviously been drinking