Yazmin Lacey & Congi - Two Takes Ep
Written by Chi Chi Thalken on December 7, 2020
Yazmin Lacey is a vocalist from Nottingham that has made a splash over the past three years with a series of jazz and R&B influenced EPs. Her most recent came just this past March, when she released Morning Matters. Now she's returned with a collaborative project with the production duo Congi, Two Takes EP.
Yazmin Lacey and Congi have worked together off and on before, but they always meant to do a proper project together. Once they were under lockdown, this seemed as good a time as any to finally do it. Given the restraints they were under, they decided to up the ante just a little to challenge themselves – while they might workshop a little with the songwriting, once it came time to record, each party was to do it in just one take. Congi would record their part, send it to Lacey, and she would knock everything out in one take and send it right back. The idea here is to get the music as raw as possible. Of course, we're not talking about some punk band or anything like that. Congi are getting a little experimental with their production, but they still keep things fairly minimal, never crowding the track. This means that it's Lacey's voice that's driving this EP, and she's more than up for the challenge. She has an incredible voice, with great tone and control as she works her way through these jazz and R&B melodies that she's crafted for herself. This style of music encourages Lacey to get incredibly intimate and vulnerable with her lyrics, as she really opens up about love and loss. The key here is the way in which she's able to not just write these words, but really put her all into her voice as she sings them without doing too much or taking things over the top. She's just really effective in communicating her emotions and making beautiful music that will stick with you as she pours her heart out.
Two Takes EP is a nice experiment and challenge from some artists that have good chemistry together, but it's Yazmin Lacey's continual growth and her performance as a vocalist that really solidifies that she's one of the best doing it today.
| | |
| --- | --- |
| Title: | Yazmin Lacey & Congi - Two Takes EP |
| Label: | S/R |
| Year: | 2020 |
| Rating: | 8/10 |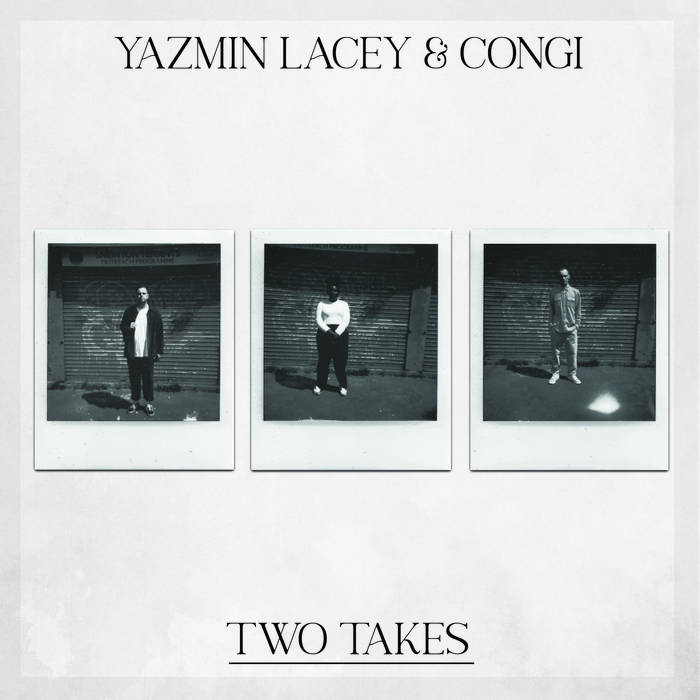 Previous: Flobama - Bento Beats (Combo #1)
Next: The Phasing Octopus - Seratonin Overload