A.D. Carson - V: Illicit
Written by Chi Chi Thalken on September 1, 2023
A.D. Carson is an artist originally from Decatur, Illinois, but he now calls Charlottesville home where he works as Associate Professor of Hip-Hop & the Global South at the University of Virginia. He made some waves a few years ago when he submitted a peer-reviewed album for his dissertation at Clemson, Owning My Masters. While working as a professor, he's also maintained his recording career, with his latest project, iv: talking to ghosts, coming out a little over a year ago. Now he's back with a new release, V: Illicit.
A lot of the times within the past decade-plus, when people call a project a mixtape, they really mean "unofficial album with less pressure on it." When A.D. Carson calls his project a mixtape/essay, these words have meanings, as it really plays out as such. The theme of this mixtape is an exploration of what it means to be "dope," and where that word comes from, all in relation to the greater history of African Americans. This might sound like a lot to tackle in a mixtape, and it is, but Carson has a lot of experience in breaking down concepts like this, and he knows how to walk that line between making music that is educational and music that still bumps. Over the course of thirteen tracks, Carson is going into subject matter like the relationship between the War on Drugs and hip hop culture, and how both have roots that go back generations in this country. To accomplish this, he's getting beats from Vintage, Marcus "Truth" Fitzgerald, Chadi, and Deiontrae Lawrence. Together, they are hitting you with a lot of different styles that also help with this conversation, from Southern to Midwest to modern to early '00s and beyond, helping paint this picture that while "dope" is ever evolving and means different things to different people, it's all tied together by this shared history. Nowhere does this come together in a more compelling way than on "Power," which opens with a clip of James Baldwin speaking, only to have a sample of Arthur Verocai's "Na Boca Do Sol" fade in, but then the beat kicks in and Carson goes in on the mic, putting his words in conversation with Baldwin's comparing and contrasting his experiences and perspectives as someone who grew up with hip hop and the War on Drugs. It's a really fascinating project with so much depth and dopeness, you'll have to listen to it several times through before you catch all of the knowledge and discussion contained within.
V: Illicit is a great addition to A.D. Carson's series of mixtapes. He always finds a way to create these interesting discussions and educate his listeners without making it feel like homework. Instead, he gives us dope hip hop that you'll be more than happy to listen to on repeat and pay attention to the details.
| | |
| --- | --- |
| Title: | A.D. Carson - V: Illicit |
| Label: | S/R |
| Year: | 2023 |
| Rating: | 8/10 |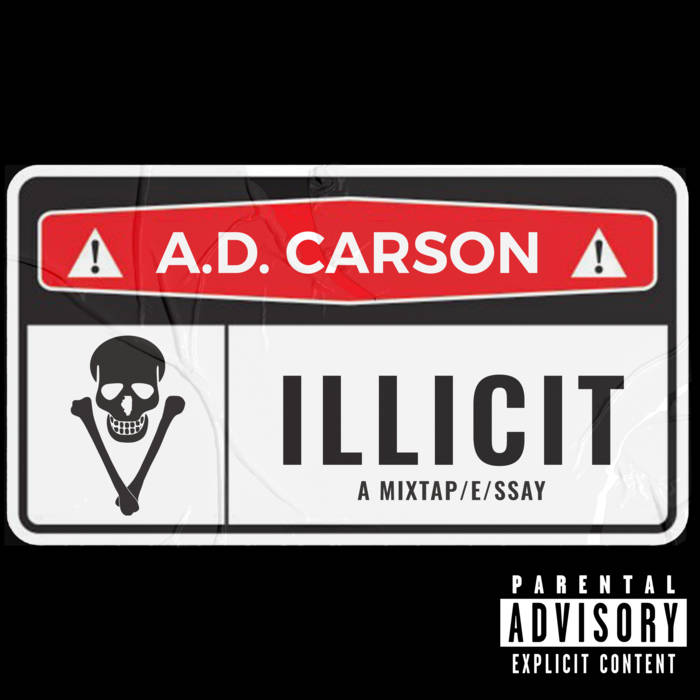 Previous: Yarni - Albers EP