Uncommon Nasa & Kount Fif - City as School
Written by Chi Chi Thalken on November 6, 2019
Ever since officially changing his name to Uncommon Nasa in 2013 for the release of Land of the Way It Is, the New York emcee and producer has really hit his stride, with a really inspired run of collaborative and solo releases, including such albums as Halfway and New York Telephone. His last album, Written at Night, came out in 2017. Now he comes back with a new album done in collaboration with producer Kount Fif, City as School.
In a lot of ways, City as School serves as a companion piece to New York Telephone. While New York Telephone was an album about Nasa's relationship to the city of New York in general and hip hop culture in particular, City as School is about Uncommon Nasa looking back and reflecting on what it meant to grow up in New York, specifically as a kid in Stanton Island who spent a fair amount of his time in Lower Manhattan (as he explains on the album, that's where the ferry drops you off). It mostly focuses on his formative high school years into his early 20s, as a young man learns what the city has to teach him. In working with Kount Fif, the main in-house producer at Man Bites Dog, we get a style of production not unlike what Nasa himself often lays down – dark, midtempo beats built off of prog rock and psychedelic samples. Both the beats and Nasa's pacing on the mic are deliberate, replicating the steady pounding of the pavement that happens when you're making your way in the city, trying to hustle and learn and create. People like to talk about how New Yorkers are always in a hurry, but really it's more about the daily grind, riding the subway and the ferry, walking the streets, and trying to carve a place for yourself in city with millions of people. There are a lot of guests on the album, with Tek, Karniege, Barrie McLain, Gajah, Duke01, Short Fuze, Shortrock, Furious P, Sadat X, Awol One, DJ Kool Flash, Pep Love, DJ Ragz, and Guilty Simpson all helping to round out the perspective of the album. As we have a mix of artists who grew up in New York, artists that moved to New York, and some artists who have only spent time in New York on tour or recording albums, you get an interesting mix of points of view. My personal favorite song on the album is "Best Laid Plans," which both features a great narrative about Nasa and a couple of friends starting a mail order used record business as teenagers, but also features a hook that really stayed with me, particularly the line, "History doesn't repeat – it rhymes."
City as School is an album that is accessible at first, but it's also one that will slowly grow on you. It's clearly a deeply personal album from Uncommon Nasa. He's not just feeling nostalgic for the good old days, he's really trying to think critically about how the city shaped him into who he is today. The result is a really thoughtful and layered album that rewards with repeat listens.
| | |
| --- | --- |
| Title: | Uncommon Nasa & Kount Fif - City as School |
| Label: | Man Bites Dog |
| Year: | 2019 |
| Rating: | 8/10 |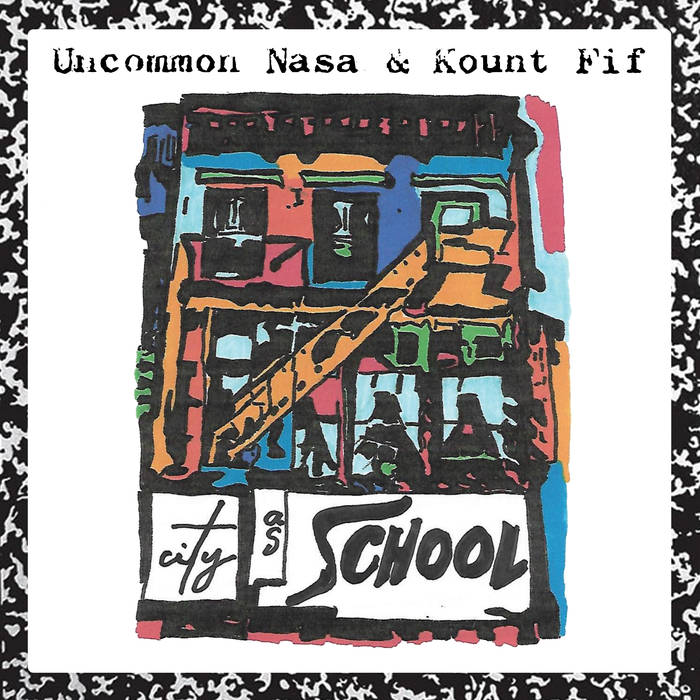 Previous: Deto 22 & Sketch Tha Cataclysm - Sharing Is Caring 10th Anniversary Re-Issue
Next: Amerigo Gazaway & Xiomara - 1990