Deto 22 & Sketch Tha Cataclysm - Sharing Is Caring 10th Anniversary Re-Issue
Written by Chi Chi Thalken on November 6, 2019
Ten years ago, New Haven emcee/producer Sketch Tha Cataclysm teamed up with phenetiks member Deto 22 to release a collaborative project called Sharing is Caring, which was released by a small label called Little Ax Independent Media. A little after this release came out, the label went under, and subsequently the release disappeared from all streaming services. Now, on the ten year anniversary of the release, we get a chance for people to discover the project all over again as we get an expanded re-issue of Sharing is Caring.
Sharing is Caring was a fun project, so it's nice to see that it just hasn't been lost to the ether of the Internet. The concept of the project was to have ten tracks – two produced by Deto 22 for Sketch to rhyme on, two produced by Sketch for Deto to rhyme on, two complete covers (beats and rhymes) of the other's tracks, and then two instrumental tracks each. It's a fun and creative assignment to give each other, and a nice way to push yourself out of you comfort zone and make something a little different. It's not too far out the range of what you expect from these two – we're still working in some classic underground hip hop, so there's plenty of left field boom bap and heady lyricism that you can just sit back and rock to. If you're a more intense fan, though, there are all sorts of goodies to pick apart, whether it be noticing the nuance of how the emcees switch up their flows on each other's beats, or what they do in covering each other's songs, especially since the original versions are included in this expanded re-issue.
Sharing is Caring is a rap nerd's dream come true. There are so many goodies here from two talented artists to pick apart and get into the nitty gritty with, but you can also just sit back and enjoy some really great underground hip hop as well. It's so nice to know that this project wasn't just lost to time.
| | |
| --- | --- |
| Title: | Deto 22 & Sketch Tha Cataclysm - Sharing is Caring 10th Anniversary Re-Issue |
| Label: | S/R |
| Year: | 2019 |
| Rating: | 8/10 |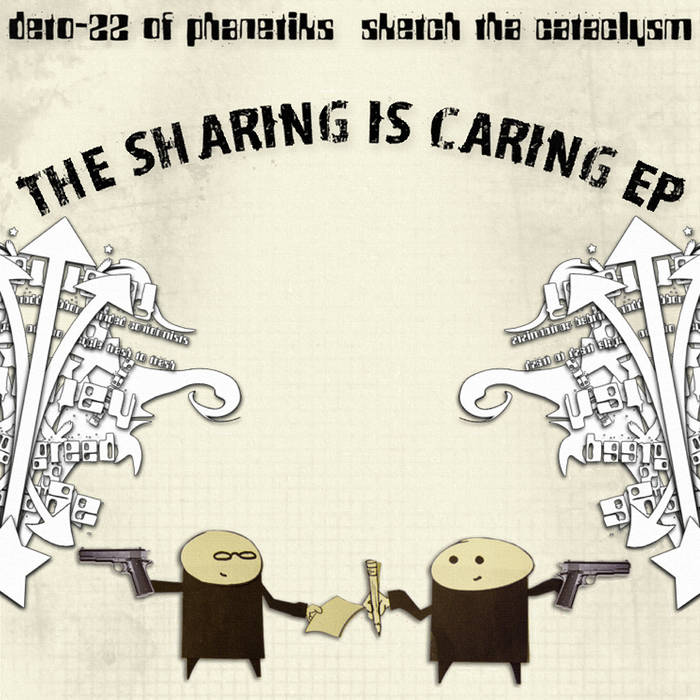 Previous: Brother Ali - Secrets & Escapes
Next: Uncommon Nasa & Kount Fif - City as School