Trademarc - Blood Meridian
Written by Chi Chi Thalken on November 22, 2019
Trademarc is an artist and person who has had quite the journey to this point. Back in 2005, he made a collaborative album with his cousin, John Cena, You Can't See Me, which was a great success and led to his involvement in the WWE for the next couple of years. He then formed the group East Coast Avengers with Esoteric and DC The Midi Alien, who then found some notoriety from their single "Kill Bill O'Reilly" back in 2008. After this initial splash, Trademarc retreated from the spotlight, only to return in 2015 with the album Black Ash Days. Any questions about what happened to him were answered on the album, as he came clean about his struggles with being bi-polar and his multiple suicide attempts. After making that comeback album, one of the many people to reach out to Trademarc was Sage Francis. They started exchanging emails, then demos, and before you knew it, Trademarc was being welcomed into the Strange Famous family. Now he makes his debut for the label with Blood Meridian.
If Black Ash Days was a documentation of the darkest times in Trademarc's life, Blood Meridian is a documentation that he found the light at the end of the tunnel. For the album, Trademarc paired up with the production team known as Filthy Animals, which consists of Squires, Rapswell, and Killclaw. They help him by taking him back to the East Coast underground sound of the '90s with their beats. It's gritty midtempo beats, with soul, classical, and jazz samples, the kind that demand you nod your along to the grooves. Trademarc is then able to just sit back in the pocket of these grooves and spit his rhymes with ease. As he does so, Trademarc opens up about his journey with some grown ass raps, and by that I mean that he's really able to discuss the ups and downs of his life with the maturity that you'd hope for out of a forty-something emcee. He's got a nice low voice on the mic with just a slight rasp to it, and he's able to come at you with a clear and deliberate flow with just enough rhythmic play to it to keep you on your toes. Over the course of the album, he talks about everything from his career as a musician to personal relationships to politics, with one foot in the past and one foot pointed forward, hopefully towards happier days. He does all of this with the perspective of someone who has seen the best and worst that life has to offer, greatful for the positive things in life, but not sweating the B.S. My personal favorite on the album is "Odd Author," featuring Cynic the Apache, partly because of the killer upright bassline that is sampled throughout, but also because the shit talking and wordplay that is being thrown down just sounds like Trademarc is having more fun making hip hop than he's had in years.
It took a long journey to get to this album, but Trademarc delivered the goods with Blood Meridian. This is classic East Coast underground hip hop, with Filthy Animals providing a nice assist to put Trademarc in the best position to win with this one. More than anything, it just sounds and feels like Trademarc is back to having fun making hip hop again.
| | |
| --- | --- |
| Title: | Trademarc - Blood Meridian |
| Label: | Strange Famous Digital |
| Year: | 2019 |
| Rating: | 8/10 |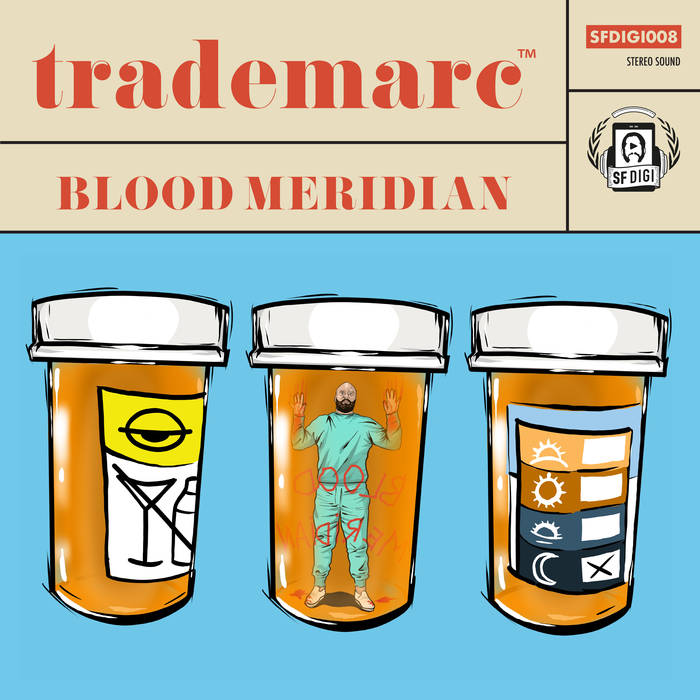 Previous: Mega Ran - AGES, Vol. 1
Next: Royal Air Moon - Derrière la nuit