Tornup x Arkatype You Will Never Understand (The State of Soul)
Written by chichi on February 10, 2019
Tornup is a young artist from Fort Worth who has been making music for a few years now. His last album, Utopian Vanguard, which came out in 2016, was an ambitious sci-fi concept album about a futuristic society. Now, after taking some time, he's come back with an even more ambitious album made with producer Arkatype, You Will Never Understand (The State of Soul).
The concept behind You Will Never Understand (The State of Soul) is that it's comprised of a bunch of short songs, with each one telling the narrative of a different Black person's experience with the prison-industrial complex. While this project took some research, it unfortunately didn't mean that Tornup had to look that hard to find the stories. Whether it be his own experience with police harassment, listening to stories from his grandmother, or helping to organize the community to hold the Fort Worth Police Department accountable for their ongoing abuse of the citizens they are sworn to serve and protect, it feels like in many ways this project found Tornup. In working with Arkatype, Tornup found a collaborator who inspired him to write with the beats he was laying down, which really spoke to the tone that Tornup was trying to convey with this project. In practical terms, Arkatype is producing beats that draw upon a foundation of soul and jazz that gives the music ties to the past, but then he pushes things forward with this punk/industrial influence that makes things sound very modern and extremely urgent and tense. This sets the table perfectly for Tornup, who spits these vignettes from different points of view, mapping out different scenarios, but all with the common thread of systematic oppression that creates a school-to-prison pipeline for young Black people. It can get ugly at times, and Tornup himself went on record saying he doesn't agree with all of the perspectives on the album, but he wanted to represent as many points of views as he had come across on the album, and there isn't always unity when it comes to a complex problem like this one. The end result is an album that is a challenging but necessary listen.
Tornup is a talented artist, and he upped the ante with You Will Never Understand (The State of Soul). He and Arkatype made an ambitious album that tackles some difficult-yet-important subject matter. They did so with empathy for all the people whose lives have suffered because of the prison-industrial complex, but also an understanding of the bigger picture and the systems in place that create these problems. It's a tough task, but these two were more than up to the challenge.
| | |
| --- | --- |
| Title: | Tornup x Arkatype - You Will Never Understand (The State of Soul) |
| Label: | S/R |
| Year: | 2019 |
| Rating: | 9/10 |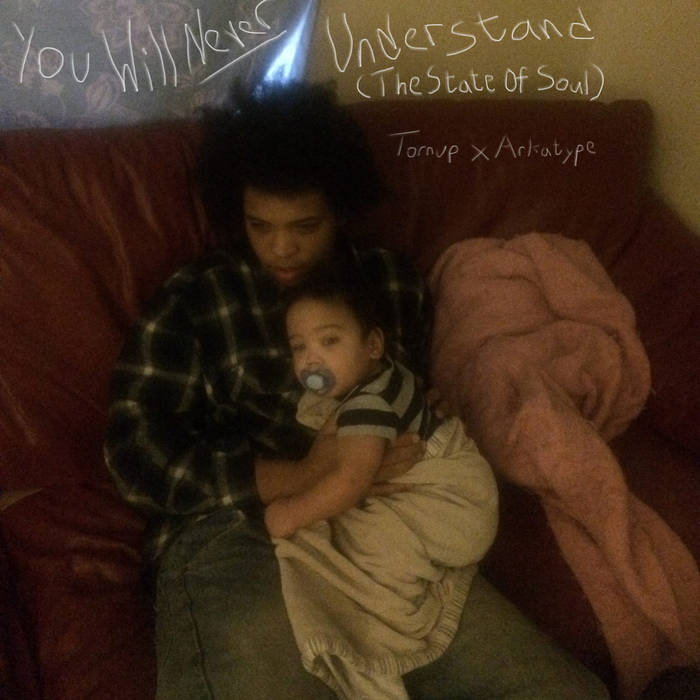 Previous: Mute Speaker Radio Bokor Volume 2
Next: Ozay Moore the Between Time Ep