Timbuktu & Ollie Teeba - Million Pound Note
Written by Chi Chi Thalken on June 4, 2020
Timbuktu is an emcee/producer from the Backburner crew, which means that his is also part of a million subgroups, such as Swamp Thing and Tongue Helmet. For his most recent project, he teamed up with Ollie Teeba, the deejay and producer from the UK that co-founded the groups The Herbaliser and Soundsci. The origins of the album go back to 2013, when Teenburger (Timbuktu & Ghettosocks) was touring France with The Herbaliser, who in turn produced all of Teenburger's second album. While all of this was going on, Timbuktu and Ollie Teeba began to talk about doing a side project together. Of course, other projects got in the way, and they would return to this in 2015 and make a little progress, only to have other things get in the way again. Finally, in 2019, they were able to return to the project in earnest and actually finish it. The finished product, Million Pound Note, is now finally here after all this time.
If you've spent time with either's music, it will come as no surprise as to what Million Pound Note sounds like. This is an album with big, banging, boom bap beats, and big silly bravado on the mic. Teeba knows not only how to find some choice samples to cut up, but he knows how to take them and craft these big, booming, funky hooks that will immediately draw in listeners with promise of a fun time ahead. This suits Timbuktu to a tee, who knows how to get the party started on the mic. Over the course of eight songs, he's having fun, talking some shit, dropping nerdy sci-fi references, and bringing along a few friends to join in the fun, such as Ghettosocks and Nilla. The only song that doesn't quite come together for me is "Conspiracy," which features Savillion and Chokeules, along with some samples of conspiracy theorists such as Alex Jones. Hearing Jones is a little triggering, even if it's done in jest. More importantly, though, the song just feels a bit muddled, like all three tried to get too clever and meta with the lyrics and they lost their thesis statement along the way. It's only a small blip on an otherwise fun album. Besides, just a couple of tracks later, Nilla comes in on "Zoltar" and damn near walks away with the album her verse is so good. It's a tradeoff I'll take.
It's not perfect, but Million Pound Note delivers some fun boom bap that will sound great coming through your speakers as you turn up the volume during your quarantine party. Hopefully we won't have to wait seven years for the next album.
| | |
| --- | --- |
| Title: | Timbuktu & Ollie Teeba - Million Pound Note |
| Label: | URBNET |
| Year: | 2020 |
| Rating: | 8/10 |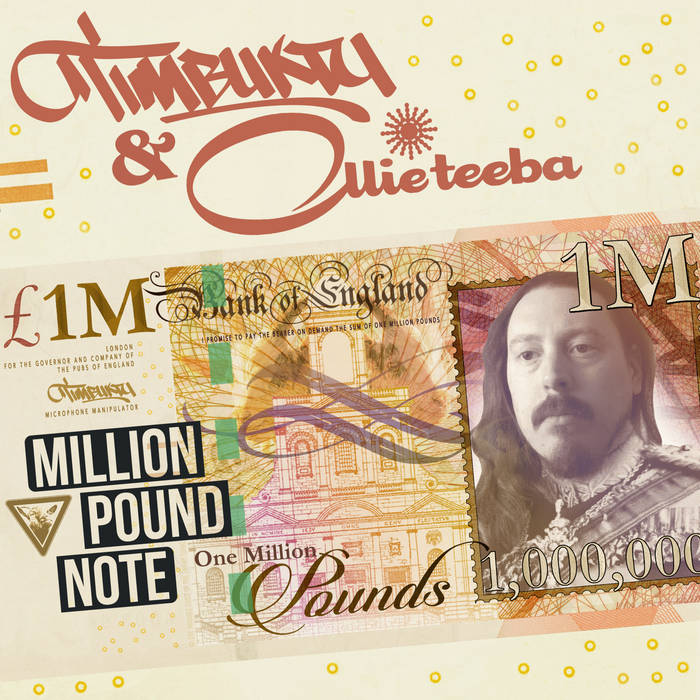 Previous: MC Homeless & HaplogroupX - Duress
Next: Armand Hammer - Shrines