MC Homeless & HaplogroupX - Duress
Written by Chi Chi Thalken on June 4, 2020
MC Homeless and HaplogroupX (Bernichus & Transplant) all met after crossing creative and social paths after MC Homeless moved to Austin in 2011. After crisscrossing and working on each other's projects, they are now officially teaming up as a trio to release an EP on Milled Pavement Records, Duress.
For the project, Transplant is handling production duties while Bernichus and Homeless trade duties on the mic. As a producer, Transplant is throwing down these dark, spare, psychedelic jazzy beats, often heavy on disparate elements, such as bass and flute, to provide the outline for Bernichus and Homeless to flesh out with their lyrics. Both emcees have a bit of neurotic white guy vibe on the mic, which leads me to believe that it didn't take much for them to get on the same page lyrically. It definitely fits into the overall vibe that Transplant is helping to cultivate, where the beats are already giving you this sense of dread, only to have the two emcees come on the mic and start trading rhymes and philosophy and politics and reassure you that we are all fucked. They do lighten that mood with a sarcastic sense of humor, although it does feel a little awkward and forced when they start making pop culture references. It's not the worst thing in the world, but each time they do it the lyrics and flows always feel a bit more labored, like they aren't in their comfort zone, only to really hit the mark when they get back to abstract imagery and breaking down the flaws of American capitalist society. It might not be the sunniest lane, but it's a lane that these three know really well.
Duress is a new pairing of old friends, and the results are about as solid as you might expect. It's not perfect, but when everyone's doing what they do best, you get some really challenging, moody hip hop that will give you plenty to chew on.
| | |
| --- | --- |
| Title: | MC Homeless & HaplogroupX - Duress |
| Label: | Milled Pavement |
| Year: | 2020 |
| Rating: | 8/10 |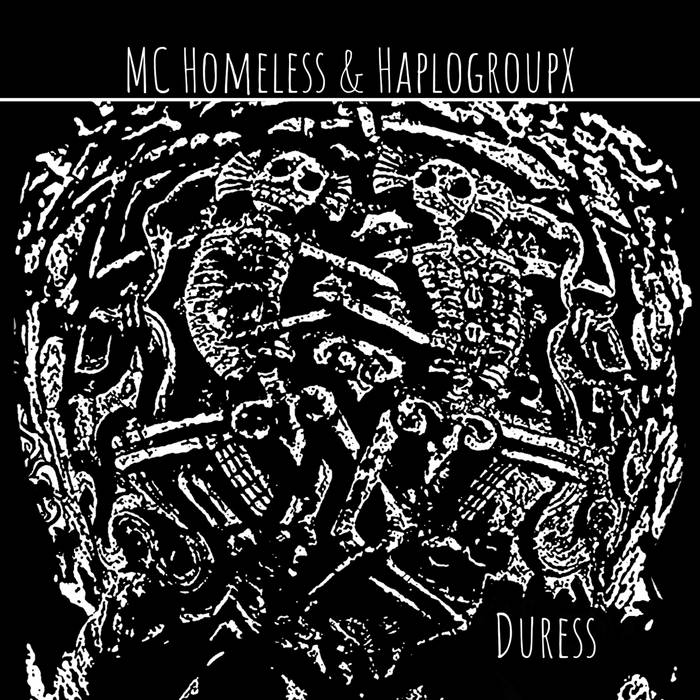 Previous: The Other Guys - Spring in Analog
Next: Timbuktu & Ollie Teeba - Million Pound Note