Third Root - Passion of the Poets
Written by Chi Chi Thalken on June 19, 2020
Third Root is the San Antonio trio consisting of emcees MexStep and Easy Lee and DJ Chicken George. The three have been cooking up their own brand of Afro-Latin hip hop for years, but it's actually been four years since their last full-length album, Libertad. MexStep did release a solo album two years ago, the brilliant Resistir, but now it's time for them to form like Voltron and drop a soundtrack for our times, Passion of the Poets.
For the album, Third Root are bringing on a few familiar faces to collaborate, firstly with producers Adrian Quesada (Black Pumas and Grupo Fantasma), El Dusty, and Illfudge. Between these three, they help realize Third Root's sound, which is a combination of Southern hip hop (specifically Houston and New Orleans), Tejano, Cumbia, and classic boom bap. The result is a style of hip hop that accurately reflects that Afro-Latin coalition that is Third Root. Most importantly, though, this album bangs from start to finish. This is hip hop that is made for cruising around in the summer and for chilling with your friends at a socially distanced cookout. For a lot of groups, this would be enough, but not for Third Root. That's because MexStep and Easy Lee are not only dope emcees, they are also educators during the day, so they are constantly finding ways to educate and inspire their listeners without sounding too corny or preachy. They do this by mixing it in with some classic shit talking, but also by making the lessons personal as they talk about their own backgrounds and their own activism within their community. Along the way, we're also joined by a few notable guests, such as Black Pumas, Mad1ne, Grupo Fantasma, Bavu Blakes, and Kam Franklin, who all give the album some extra flavor, whether it be in the form of some killer horns, a nice sung hook, or trading rhymes.
Passion of the Poets might sound timely, but the truth is that Third Rot has been doing this for years. This is the type of album that you want from a veteran trio like them, bringing different style and cultural references together and putting them in dialogue, and then giving you the blueprints to go out and affect change in your own community.
| | |
| --- | --- |
| Title: | Third Root - Passion of the Poets |
| Label: | S/R |
| Year: | 2020 |
| Rating: | 9/10 |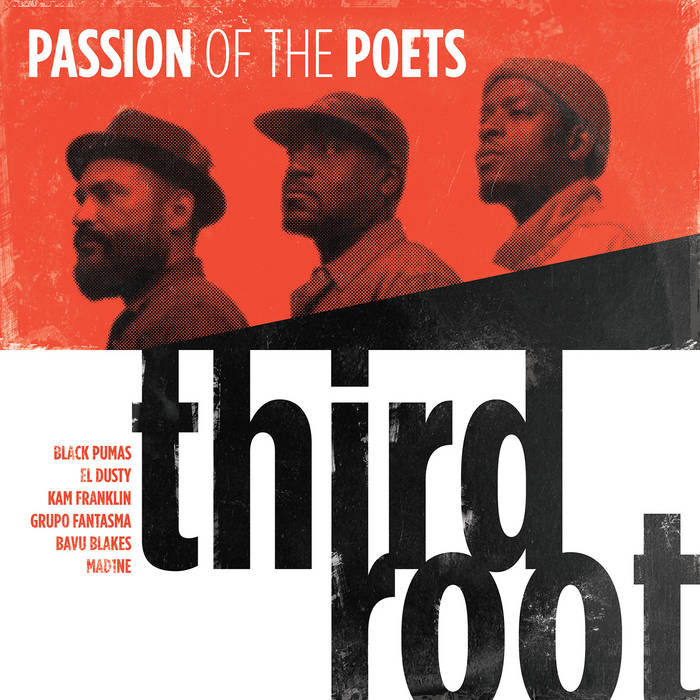 Previous: Skipp Whitman - Hermosa
Next: Roy Ayers, Adrian Younge & Ali Shaheed Muhammad - JID002