The Phasing Octopus - i may be annoyed or whatever
Written by Chi Chi Thalken on November 11, 2020
The Phasing Octopus is a relatively new artist from Birmingham, although they've hit the ground running in 2020, releasing a single a month through the spring and summer, and then releasing an EP, Bug[bomb], in October. Now they are back with another EP, I may be annoyed or whatever.
The Phasing Octopus is an interesting artist, and maybe not what you're expecting coming out of Birmingham. That's because they are developing this really abstract and avantgarde mixture of jungle, drum and bass, hip hop, and industrial instrumental music. It's the type of music that doesn't give it all away up front - you really have to work for it and really sit with the music to get what The Phasing Octopus is getting at. This EP is just four tracks long, but those four tracks are more like four movements of one twenty-minute composition, and you just need to buckle up and go along with The Phasing Octopus for the ride and see where you end up. It's a dark and cacophonous journey, and one that will confront you with moments of noise and busy rhythmic elements, but there are also moments of beauty and peace, you just have to listen close and cherish those moments when you get them.
The Phasing Octopus is not an easy artist to get to know – they make you work for the music. i may be annoyed or whatever is a dense musical journey with a lot of twists and turns to it without a lot of obvious and accessible moments, but for more adventurous listeners, the rewards are there in the form of some really unique and inventive musical compositions that doesn't have a lot of piers.
| | |
| --- | --- |
| Title: | The Phasing Octopus - i may be annoyed or whatever |
| Label: | S/R |
| Year: | 2020 |
| Rating: | 8/10 |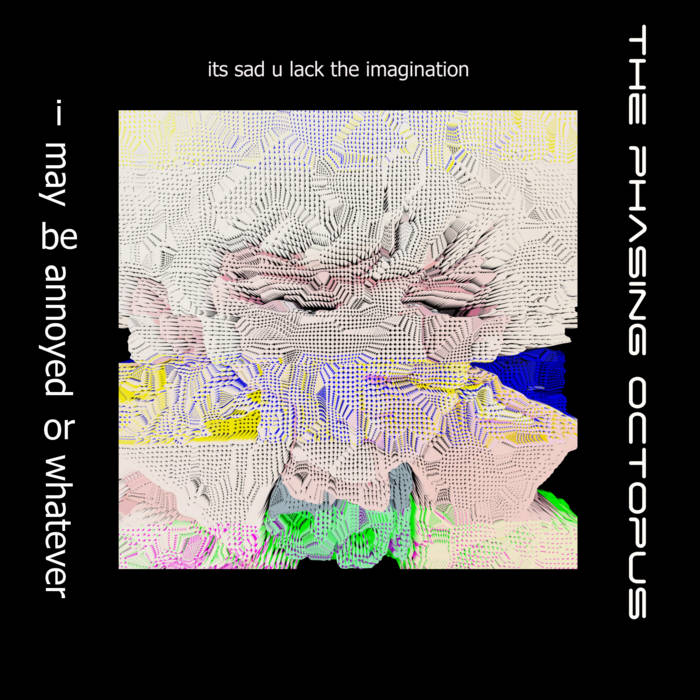 Previous: defame x opal prism - NüVintage
Next: SassyBlack - STUCK