The Mighty Rhino - A Joy Which Nothing Can Erase
Written by Chi Chi Thalken on October 18, 2019
Last spring, Toronto emcee The Mighty Rhino released his sophomore album, We Will No Longer Retreat Into Darkness, which was a triumphant return after taking seven years since the release of his debut album. Fortunately, we don't have to wait another seven years for the next one – album number three, A Joy Which Nothing Can Erase, is here just over a year later.
Hopefully most of y'all caught We Will No Longer Retreat Into Darkness, one of Scratched Vinyl's favorite releases of 2018, but in case you didn't, you will very quickly learn a few things about Rhino when you press play on this album. One is that The Mighty Rhino has a big voice and a big personality on the mic. The title track, which opens the album, might lull you into thinking this album is something gentle and soft for the first twenty seconds or so, as a mellow acoustic guitar plays arpeggios and The Mighty Rhino calmly introduces himself and his aliases before getting into it. Once he flips that switch, though, he's pretty much coming at you at a ten, occasionally amping up to an eleven. The beat never kicks in on the title track, it's still just acoustic guitar and some really subtle percussion, but The Mighty Rhino is intensely laying out his thesis statement for the album, a message of love and understanding that sort of works as an opening prayer. It should be noted that The Mighty Rhino is of the Bahá'í Faith, which he proudly and openly discusses in his music, often in the same way that others discuss their Christian or Muslim faith in hip hop, as a way to find comfort and understanding in the world, and as a source of inspiration to keep getting better in this life. As we move our way through the album, we get production from Notion, J.W. Friedman, Iceberg Theory, Skywise, Red Dot, Myer Clarity, Triple A, and Abstract Artform. There are a couple of exceptions, such as the already noted title track, but for the most part we are getting some East Coast '90s inspired bangers. I'm talking about shit that doesn't ask to be turned up – it demands it. Seriously, if you're listening to "Beam of Light" or "Unfuckwithable" and not instinctively turning that shit up and nodding your head, I don't know what we're doing here. One of the notable exceptions to the rule is the sweet and soulful "Ain't Pushin'," which allows for some tenderness as Rhino dissects a relationship that didn't work, trying to figure out what went wrong, but ultimately wishing for whatever is best for the woman involved, even if that means not seeing her anymore. This intimateness continues into "Not All is Lost," a song in which he opens up about his mental health, his faith, and how he finds strength to keep going when things look dark. Over the course of the album, The Mighty Rhino is beyond open about his personal struggles – as he lays out on "Little Ol' Me," he has some significant mental health issues, including diagnoses of cerebral palsy, bipolar, and learning disorders. He mentions several times that he's had suicidal thoughts and come close to losing the battle before, and he's faced some self esteem issues that come with being fat as well. This can be a lot to deal with, but Rhino's music isn't about feeling sorry for himself – it's about being honest about the struggles, putting it all out in the open so that people can learn about where he's coming from and maybe relate and realize that they don't have to suffer in silence as well. It's also about using hip hop to find the strength, to not only put a name to the struggles, but to put a beat and rhymes to it, and in doing so finding the resilience to rise up with the support of others and move forward with a message of peace and love. If that wasn't enough, we also get a couple of killer posse cuts on the album, "Unfuckwithable" and "Fuckouttahere," which combine his love of '90s hip hop (Fatlip and Prince Po) with the Toronto scene of today (More or Les, Ultra Magnus, Adam Bomb, Fraction, Roshin, & Skizza). These tracks are when the already high energy just skyrockets through the roof, and the joy is infectious. As the wild ride that is A Joy Which Nothing Can Erase comes to a close, we reach an actual closing prayer, "The Desires & Prayers of Abdul'l-Baha," which helps give a moment of reflection and reinforces how Rhino's faith helps inspire him.
A Joy Which Nothing Can Erase is an intense listening experience, because The Mighty Rhino doesn't know how to do anything but give his all on absolutely everything. He relays his joys, his pains, his hopes, his dreams, and everything else this life has thrown at him, and he does it all while making sure this hip hop bumps hard and dropping rhymes and choruses that you'll be singing along to before you realize it. This isn't an album that you'll have a casual relationship with. This is an album that demands you're full attention, but rewards with a cathartic and joyous listening experience.
| | |
| --- | --- |
| Title: | The Mighty Rhino - A Joy Which Nothing Can Erase |
| Label: | Hand'Solo |
| Year: | 2019 |
| Rating: | 9/10 |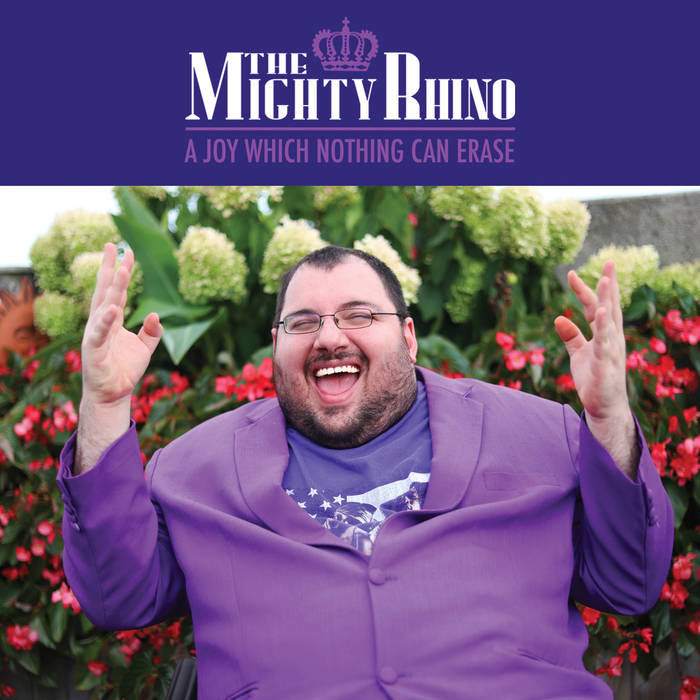 Previous: Stik Figa - thanks for everything
Next: Mavi - Let the Sun Talk