The Last Poets - Transcending Toxic Times
Written by Chi Chi Thalken on May 10, 2019
Just about one year ago, the legendary New York group known as The Last Poets reformed after twenty years off to release an album for their fiftieth anniversary, Understand What Black Is. It was an excellent return to form for the group, one that saw them working with British producers Prince Fatty and Nostalgia 77 to explore a decidedly dub/reggae sound as they spoke to the race issues of today. Now they return to show that this reunion was not just a one-off thing, and that they still have much more to say about the times we are living in, as they release their latest album, Transcending Toxic Times.
For this album, they teamed up with producer Jamaaladeen Tacuma, a jazz bassist who has played with everyone from Ornette Coleman to Vernon Reid. He helped put together a stellar cast of musicians to give them a full, funky sound, including horns, strings, and percussion, along with keys, guitar, bass, and drums. The overall sound of the album is taking notes from Highlife, Afrobeat, and African jazz, which provide a lot of movement for the Poets to play against with their spoken word delivery, as they set to discussing the current state of global politics, expertly connecting the dots and encouraging listeners to take action to right the wrongs in their community. The only light criticism of the album is that for a chunk of the middle of the album, it feels like they are in such a groove that you as a listener might go into cruise control for a little bit. Again, nothing in particular is bad, but when you hit a certain point of the album where the tempo, grooves, and vocal deliveries are similar, you might not still be listening as actively as you were at the beginning of the album. That's okay, though, because the last three tracks on the album are a doozy. "Juju Jimi" is a powerful tribute to Jimi Hendrix, with Tim Motzer providing the guitar licks as they don't just focus on his technical prowess, but instead focus on his commitment to peace and love, his passion, and his Blackness. From there, we move on to the opus of the album, "Rain of Terror," a sweeping, epic 9-minute prog-rock/jazz/funk song in which The Last Poets spell out America's history of violence and oppression, from foreign policy and war to the slaughter of Native Americans and everything in between. Things then close with "Toxic Times," a track built around percussion, gospel vocals, and bass that takes them back to their roots as they get into the more immediate current affairs that are making these times toxic. What is important to note here, especially on the last two tracks here, is that when a group like The Last Poets are talking about the ills of society, they aren't painting a doom and gloom situation. They are educating listeners and trying to get them fired up and use the tools they've been given to go out into the world and make a change. It's that fire that's still burning within them and their ability to educate through music that still make them such a special group.
Two years ago, I had no expectations that we'd ever get another Last Poets album. Now we have two, marking a new era in their storied career that stand up alongside the rest of their catalogue, making great art, educating the masses, and encouraging everyone to keep fighting that good fight.
| | |
| --- | --- |
| Title: | The Last Poets - Transcending Toxic Times |
| Label: | Ropeadope |
| Year: | 2019 |
| Rating: | 8/10 |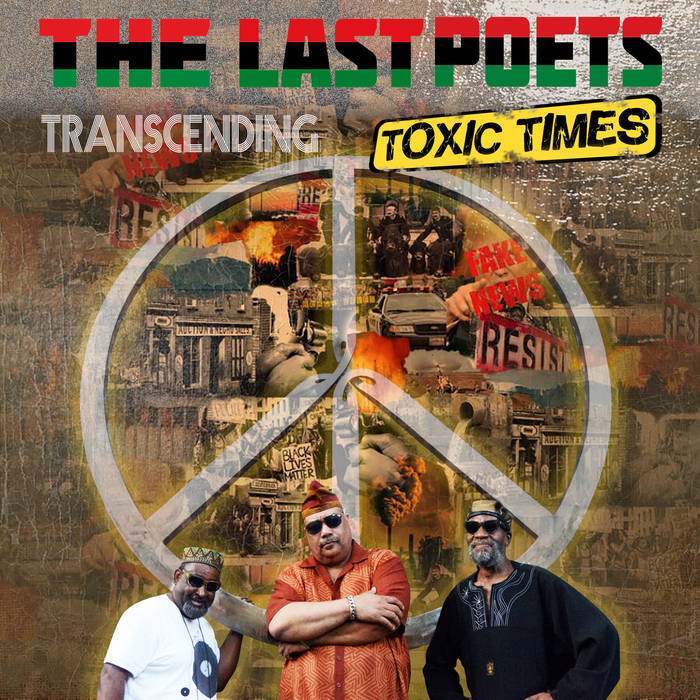 Previous: Tongue Helmet - The Sunstroke Remixes EP
Next: 14KT - For My Sanity