SkyBlew & Scottie Royal - The Royal Blue Eccentrics
Written by Chi Chi Thalken on October 1, 2019
North Carolina emcee SkyBlew has been going strong since the beginning of the decade, collaborating along the way with people like SublimeCloud and DJ Remei, just to name a couple. Four years ago, he teamed up with a producer from Charlotte named Scottie Royal to release an album called The Royal Blue Reverie. Now they've finally gotten back together for round two, The Royal Blue Eccentrics.
The first thing that will hit you about The Royal Blue Eccentrics is just what incredible chemistry these two artists have when they work together. SkyBlew has always tended towards some light and jazzy boom bap beats, and Scottie Royal is giving him some of the most beautiful, graceful, and funky jazz-sampling beats that he's every rhymed on, and he's able to get comfortable in that pocket and just let the words flow. Both artists have obviously put in the hard work over the years so that they now both sound effortless, but when you lean in and listen a little closer, you can pick up on all of these minor details that let you know just the level of care that they're putting on this album. SkyBlew often feels like he has this gentle river of words coming out of his mouth – it's a steady stream, and it dances around and you gotta stay with it, but it's not overwhelming. Or, as he likes to say, he doesn't rap - he paints the sky blue. If you keep listening actively, you can hear him paint these beautiful pictures with his lyrics, and you can understand what he means. Sometimes they might get a little abstract as he talks about big picture issues, such as on "The New Color Theory," in which he goes deep in connecting the imagery of the color wheel with social issues, but they're never so abstract that you lose the main idea. Other times he can take you right down to Earth with a slice-of-life narrative, such as on "Lady Butterfly Red," in which he relates a random encounter with a dysfunctional relationship he came across while out on a walk one day, and the conflicting thoughts about what to do in that situation. It all comes together to create this magical listening experience where one minute you feel like you're floating, experiencing all the beauty this world has to offer, but at the same time you never leave the ground, because Blew and Royal know what real life is like and they know there's work to do as well.
The Royal Blue Eccentrics is SkyBlew's best work to date, and that's saying something given his catalogue up to this point. His chemistry with Scottie Royal is just phenomenal, and they push each other in just the right ways to make an incredibly balanced and gorgeous hip hop album.
| | |
| --- | --- |
| Title: | SkyBlew & Rcottie Royal - The Royal Blue Eccentrics |
| Label: | WeGrowWax |
| Year: | 2019 |
| Rating: | 9/10 |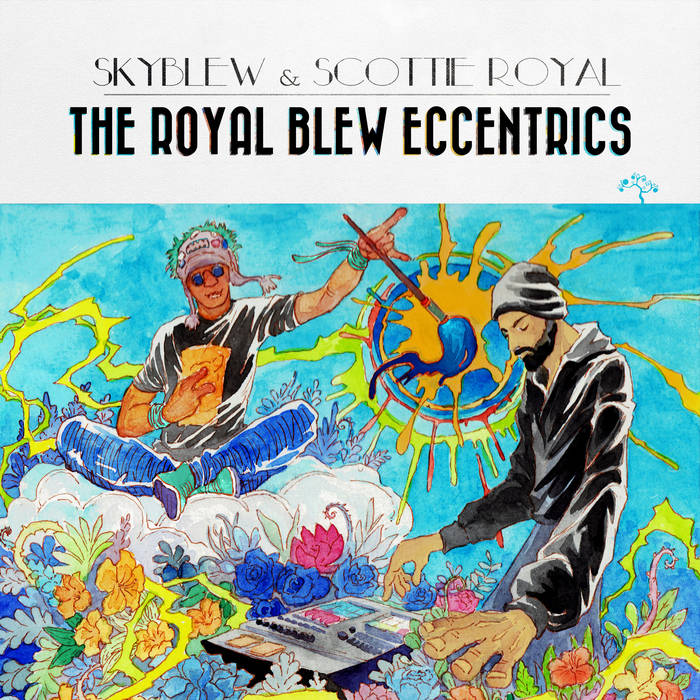 Previous: Five Steez & J-Zen - Pantone
Next: Juju Rogers - 40 Acres N Sum Mula