saraTonin - Stir the Pot
Written by Chi Chi Thalken on October 25, 2019
saraTonin is an emcee from Albuquerque and a trans activist. While she has been an emcee her entire adult life, internalized fear, shame, and hatred stemming from transmisogyny had her worried about starting this new chapter in her life as an emcee after she transitioned from male to female. Fortunately, she was able to work through it and find the strength to start this new chapter as saraTonin, and now releases a new EP called Stir the Pot.
Working with producer S-Diz (also from Albuquerque), saraTonin comes out the gates swinging on this EP and doesn't let up until the five songs are over. S-Diz is cooking up beats that bring in a little bit of trap, a little bit of G-Funk, and a little bit of boom bap, all while sounding very modern and most importantly, banging. saraTonin has no problem finding the pockets of these grooves, and she comes hard on the mic. The personal narrative and representation that come with saraTonin are all great, and we need more of it in hip hop, but none of this would reach anybody if saraTonin couldn't bring it on the mic. The good news here is that saraTonin can absolutely rhyme, and she comes across with great confidence as she discusses issues of identity, sexuality, and her own personal journey, while also talking mad shit and bringing skilled flows. The result is that you get an EP that is very empowering and educational, but also one that will make you want to pump up the stereo and make the stank face as saraTonin comes with the wordplay and S-Diz drops these fire beats.
Personal journeys and identity are not always easy or straightforward paths, but I'm glad that saraTonin's journey has finally led her to where she is today, because she makes a hell of a statement with Stir the Pot. It's short and to the point, but it's also incredibly impactful. Hopefully this is just the beginning of this new chapter.
| | |
| --- | --- |
| Title: | saraTonin - Stir the Pot |
| Label: | S/R |
| Year: | 2019 |
| Rating: | 8/10 |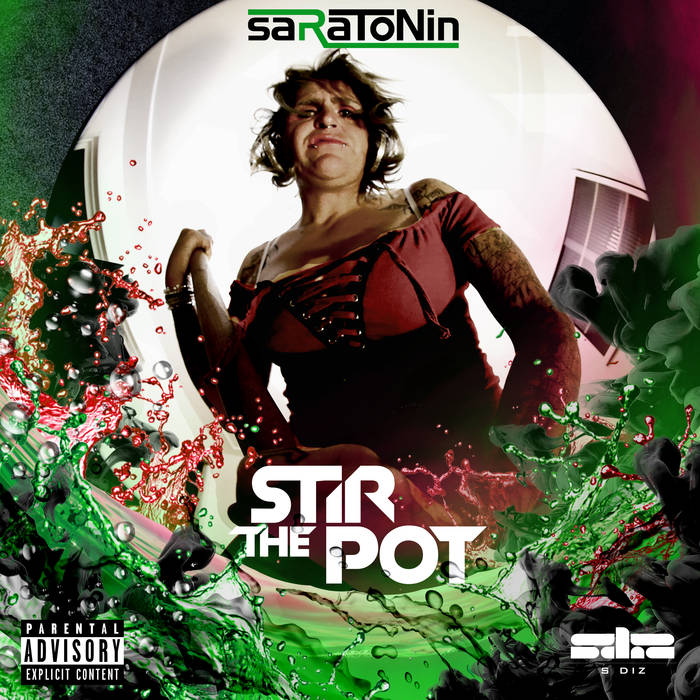 Previous: Homeboy Sandman - Dusty
Next: Mikal kHill - terminal.