Rel McCoy & Peace 586 - No More Soda EP
Written by Chi Chi Thalken on December 8, 2020
Rel McCoy, fka Relic, is a Toronto artist that has been releasing music for about the last ten years, working along the way with artists such as Fresh Kils, Eternia, Moka Only, and Shad, just to name a few. His most recent work came out in August of 2019, when he released his full-length album, A Different Crown. Now he's back with an EP produced by Peace 586 from Freedom of Soul, No More Soda EP.
Peace reached out to Rel McCoy about a year ago to see about working on one track together, but after doing that, they both realized they had good chemistry and decided to keep thing rolling, which then resulted in this EP. One listen to No More Soda, and it will quickly make sense what these two are getting out of this partnership. McCoy had just released an ambitious and personal album that was largely composed by himself and featured a lot of singing as well as rapping. When it came time to work with Peace 586, everything got scaled back to the basics – just beats and rhymes. Peace is bringing that funky boom bap, drawing on the East Coast sound of the early to mid '90s, and McCoy is just coming hard with the rhymes. It's kind of funny how an artist can set themselves apart with their versatility, but that just makes it that much more satisfying when they just come hard with some gritty no frills hip hop. It's like knowing that your favorite basketball player is a great all-around player who brings a lot to the sport, but then you see them go on a fast break and throw down a slam dunk really hard and it gets you out of your seat. This is all to say that No More Soda is just a lot of fun to listen to, and it's nice to hear McCoy get back to basics and show you that he can hold his own against anyone as an emcee, especially when someone like Peace 586 is bringing that funk.
No More Soda EP is a really enjoyable collaboration between Rel McCoy and Peace 586. They have a very natural connection through the music, and it just sounds like they had a lot of fun working together on this project.
| | |
| --- | --- |
| Title: | Rel McCoy & Peace 586 - No More Soda EP |
| Label: | illect |
| Year: | 2020 |
| Rating: | 8/10 |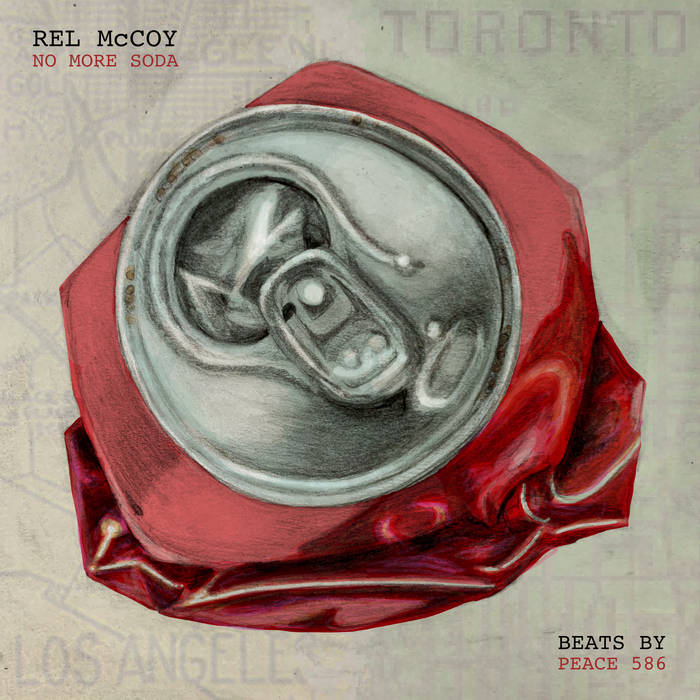 Previous: The Phasing Octopus - Seratonin Overload
Next: Chief and TheDoomsdayDevice - The Reclamation Project