Regina N. Bradley - Chronicling Stankonia: The Rise of the Hip-Hop South
Written by Chi Chi Thalken on February 22, 2021
Dr. Regina N. Bradley is an assistant professor of English and African diaspora studies at Kennesaw State University. In 2017, she published a collection of short stories called Boondock Kollage: Stories From the Hip-Hop South. In 2019, she started a podcast for WABE (NPR Atlanta) alongside music journalist Christina Lee called Bottom of the Map. Now she presents a book exploring the far reaches of the impact of Outkast, Chronicling Stankonia: The Rise of the Hip-Hop South.
Chronicling Stankonia is an interesting book in several different ways. First and foremost, it's the way in which this book is about Outkast, but also it's about so much more than Outkast. Bradley begins the book with an intro that would be a chapter in most other books, since she's doing so much more work that simply setting up what's about to happen, going in about identity and style and the complexities of Southern hip hop culture. From there, we get some great technical engagement with Outkast themselves, what the group's impact means, and how they changed the landscape of hip hop culture forever. For most people, this would be the book. For Bradley, she then shifts gears and looks at the ways in which Outkast has influenced contemporary African American literature, most notably that of acclaimed Mississippi authors Kiese Laymon and Jesmyn Ward. That's still not enough, as Bradley then looks at the television show Underground, the movie Django Unchained, and the Edward P. Jones' novel The Known World to look at how Southern hip hop has given us a new lens with which to reimagine slavery. Bradley then closes out the book with a chapter in which she brings in her own personal tragedy of losing her father to a random accident when she was in her early twenties, and then looks at the ways in which trap music in particular helped her deal with grief, and how the music in general has been forced to deal with the issue of death and mourning. Now, based on this description, you might think that this book must be abut four hundred pages long. If I told you it came in at just over a hundred pages, you might be thinking that there is no way that Bradley could give enough depth to any of these topics. This is where the talent of Bradley really shines through – not only does she pack a lot of information into a short amount of space, she manages to make these incredibly cerebral discussions fun and accessible. She makes it feel like you're just having a friendly conversation with someone about Southern hip hop, except next thing you know, you're just sitting there absorbing all the information that your really smart friend has clearly been thinking about for a while, and you're better for it.
Chronicling Stankonia is the book that Regina N. Bradley was meant to write. She has emerged in recent years as one of the best scholars of Southern hip hop, and she is able to create discussion in really accessible ways that are fun to read without sacrificing any challenging concepts. It all comes through in a really impactful book that I'm sure we'll be referencing for years to come.
| | |
| --- | --- |
| Title: | Regina N. Bradley - Chronicling Stankonia: The Rise of the Hip-Hop South |
| Label: | UNC Press |
| Year: | 2021 |
| Rating: | 9/10 |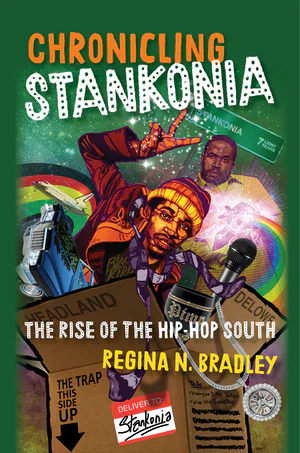 Previous: Ol' Burger Beats & Vuyo - Dialogue.
Next: Juan Cosby - Quantum Foam