Qwazaar & Batsauce - Stoned Giant
Written by Chi Chi Thalken on February 9, 2021
Qwazaar is an emcee from Chicago, best known as one-third of the group Typical Cats. Ten years ago, he teamed up with Jacksonville-raised, Berlin-based producer Batsauce to release an album, Bat Meets Blaine, and an EP, Style Be The King. Despite the warm reception to these projects, with each passing year it just felt like they were never going to get on the same page again and make that proper follow up that fans wanted. Then, out of the blue, Stoned Giant falls in our lap courtesy of the good folks at Full Plate, reuniting Qwazaar and Batsauce, and all is well again.
The nice thing about an album like Stoned Giant is that no one felt the need to overthink things. Batsauce goes into the crates to find some killer soul, jazz, and other vintage samples and flips them into some head-nodding boom bap that just sets up Qwazaar perfectly, and when he starts rhyming on these beats, it just feels like you're putting on your favorite comfy tee shirt. This is an album that is just chuck full of classic hip hop, with Qwazaar bobbing and weaving through Batsauce's beats with his dexterous melodic flow, and Batsauce coming up with drums that knock and melodic hooks and horn hits that will stick in your head for days. Where things really become fun is when you get to the last portion of the album, when you get a guest spot from Dillon on "Au Gratin," then Typical Cats and Willie Evans Jr. on "Still Here," and then finally Hellsent on "No Ghosts." It just makes the album feel like this family cypher session where everyone is having a great time hopping on these funky Batsauce beats and just trying to outdo each other.
Stoned Giant is short and to the point, and Qwazaar and Batsauce don't try to reinvent themselves. They just play to their strengths, stay in their wheelhouse, and deliver a great time in the process. It's great to have the gang back together.
| | |
| --- | --- |
| Title: | Qwazaar & Batsauce - qwazaar-batsauce-stoned-giant |
| Label: | Full Plate |
| Year: | 2021 |
| Rating: | 8/10 |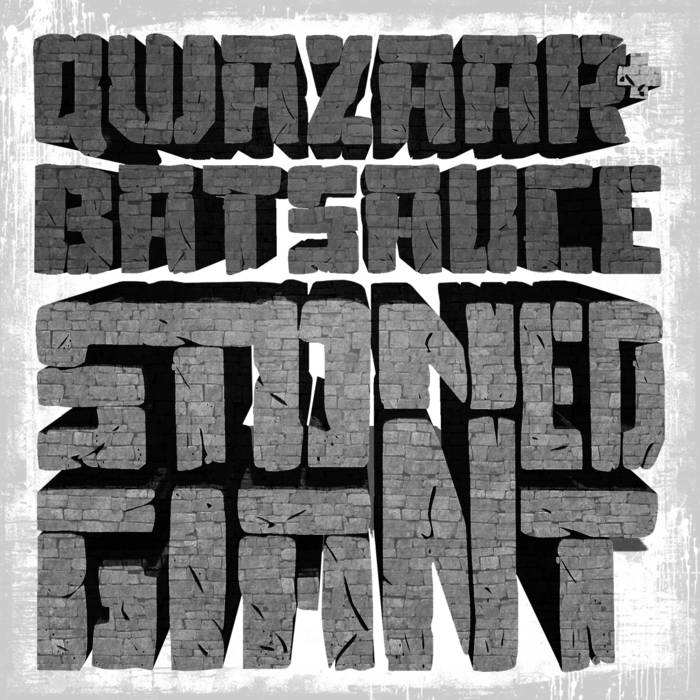 Previous: Juicy the Emissary, Boombaptist, & Elaquent - Komfort Food
Next: Big Cats - A Movie About the End of the World, Set in 1990s Las Vegas