Juicy the Emissary, Boombaptist, & Elaquent - Komfort Food
Written by Chi Chi Thalken on February 8, 2021
After being a mainstay of the Austin hip hop community for over a decade, producer BoomBaptist has really upped his game in the last couple of years. In 2019, he released the full-length album Feel Yourself alongside vocalist Yadira Brown under the name Vapor Caves. In 2020, he released his long-awaited debut solo album, Boom Shakalaka, and launched a new record label with Bird Peterson, Cream Dream Records. He's not slowing down in 2021, now coming back with a unique three-producer collaborative album with Elaquent and Juicy the Emissary, Komfort Food.
Komfort Food is a unique album in several different ways, so let's break them down. First, you don't often see three producers come together to make on album together. Now, they are all contributing individual tracks, making this more of a compilation album, except these three artists clearly all got on the same page. What this means in a practical sense is that if you're aware of the three artists and the nuances of their production styles, you'll be able to pick things out here and there, but if no one told you this was three artists and just put the album on and let it play, you probably wouldn't guess it was multiple artists – everything flows together just that well. That brings us to the second interesting aspect of the album, which is the general style. If you look at the title and artwork of the album, you might start to think that there was an homage to J Dilla's classic album, Donuts. Then you might look at a calendar and realize that this album came out just a couple of days before the fifteenth anniversary of the release of Donuts, which also means it's the fifteenth anniversary of his untimely death. Then you might glance at the track listing and notice that Elaquent has a track called "Dilla-quent," and Juicy has a track called "Stakes is High." Now, this is where we need to take a step back and realize that this isn't an all-caps bold print J Dilla tribute album, but it is three producers who came into their own in a post-Dilla landscape who are using this project to pay their respects to one of the all-time greats who paved the way for them to do what they do. The great thing here is that these are three producers who have been at this long enough and are skilled enough to not just copy Dilla. Instead, they are able to break down certain techniques and make them their own, and they are able to go back to sample sources and reinterpret and flip those samples in new ways. On top of all this, not every track is specifically made to the theme of comfort food or Dilla, but they all fit the vibe, which in turn means that even if you didn't have any of this other information to influence your listening experience, you've still got an album that is just extremely accessible and enjoyable to listen to. You've got beautiful down tempo and head nodding instrumental boom bap that will sound amazing on both headphones and filling up your stereo speakers with all this soulful hip hop.
What do you get when you bring in one producer from Austin, one from Denton, and one from Toronto, and give them a theme? Well, in the case of BoomBaptist, Juicy the Emissary, and Elaquent, they've given us a rich and rewarding listening experience with Komfort Food, one that you can enjoy on many different layers. At the end of the day, though, it's just damn good instrumental hip hop that's fun to listen to.
| | |
| --- | --- |
| Title: | Juicy the Emissary, BoomBaptist, & Elaquent - Komfort Food |
| Label: | Cream Dream Records |
| Year: | 2021 |
| Rating: | 9/10 |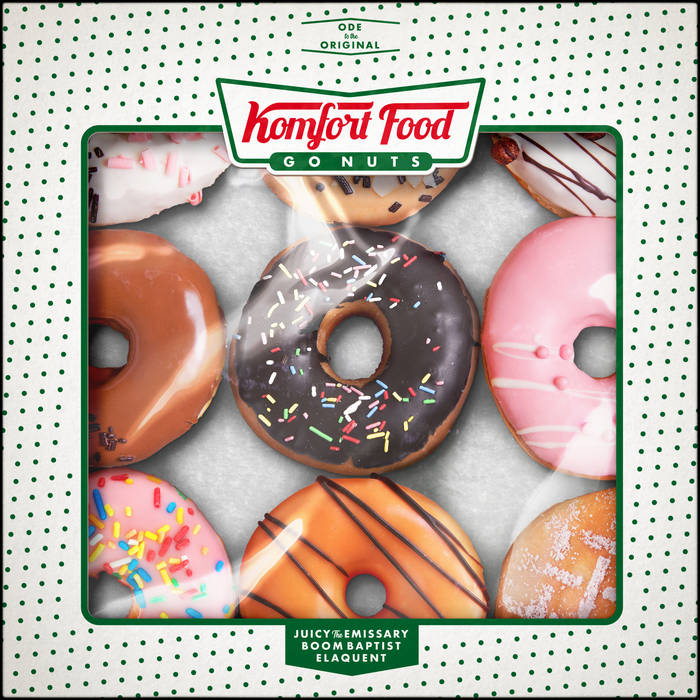 Previous: Cee Knowledge - The Calidelphian
Next: Qwazaar & Batsauce - Stoned Giant