Quakers - Supa K: Heavy Tremors
Written by Chi Chi Thalken on September 29, 2020
Way back in 2012, there emerged a production group called Quakers, consisting of Fuzzface (Geoff Barrow), 7-Stu-7, and Katalyst. These three culled together an album, self-titled, which was an epic seventy minute journey featuring a guest list that ran the gamut from Dead Prez to Jonwayne to Sareem Poems, just to name a few. Now, after an eight year hiatus, the group has re-emerged with a beat tape, Supa K: Heavy Tremors.
In case you want the mythology of the beat tape, Katalyst gave the following explanation:
"They returned to the planet to find humans reaping ecological havoc. From their arsenal of secret weapons comes Heavy Tremors: a sonic assault to help bring the world back into balance. This siege of beats targets the few who systematically pillage the planet and its resources for their own benefit. Play it loud."
What Supa K is in a more practical sense is a really mature and well-balanced beat tape that is long enough and well-developed enough from track to track, it plays out more like an album in the mold of Donuts. That is to say that the whole is greater than the sum of it's parts when you start stacking all of these short musical ideas on top of each other and this bigger picture starts to emerge. These three producers do a great job of navigating their way through prog rock, vintage soul, jazz, and early electronic music and sampling and flipping in really creative ways that both keeps you on your toes but also feels incredibly natural and fits together perfectly. That's because the sequencing of the tape is the secret weapon to the whole thing. Each snap shot is interesting, but when you take a step back and absorb the whole thing as it's arranged, the musical journey you're taken on makes a lot of sense and you see how each idea is in conversation with the next. One track might be really smooth and soulful, and the next might be weird and psychedelic, and the next might be a little herky-jerky, but with each additional track, the transitions seem less and less random – they feel very carefully planned.
Supa K: Heavy Tremors might seem a little unassuming on paper, but it's quite an accomplishment in practice. It's a long collection of a lot of short tracks, where a lot of interesting ideas and great experimental hip hop production comes together for a really rewarding listening experience.
| | |
| --- | --- |
| Title: | Quakers - Supa K: Heavy Tremors |
| Label: | Stones Throw |
| Year: | 2020 |
| Rating: | 8/10 |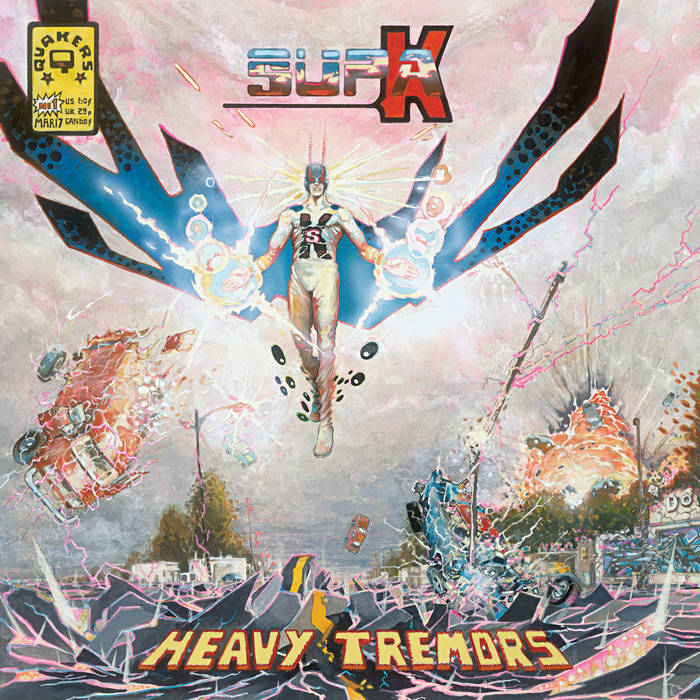 Previous: JaRon Marshall - The Black Power Tape
Next: Bird Peterson - I Am What You Am I Am