One Be Lo - The Looma (Part 1-5)
Written by Chi Chi Thalken on November 13, 2019
One Be Lo is the Pontiac emcee/producer who we know as one half of the group Binary Star, but he's also had a stellar and prolific solo career as well, going back to the early '00s. Last year, Binary Star gave us an ambitious double album, LIGHTY/EARS APART, which was full of live instrumentation and guest artists, with One Be Lo steering the ship and building this sci-fi hip hop universe. If you thought that was ambitious, though, One Be Lo has another thing coming for you, because he just dropped a quintuple album, The Looma.
Quintuple? As in five? That's right, One Be Lo apparently wrote out this epic sci-fi/fantasy story on a flight from Cairo, and since then took to the task of putting it all to music. While LIGHTY/EARS APART was a family affair with a lot of guests on it, One Be Lo is scaling things back on this project, producing and rhyming the whole thing himself. As you might have already figured out, this is not your typical album, and it does not follow your typical album structure. There are five albums worth of material, but they vary in length, from about twenty-five minutes to forty-five minutes, depending on the volume. The individual tracks are shorter, with One Be Lo giving you a chapter worth of rhymes on each track as he builds the story. That means that we aren't getting traditional songs – there aren't any hooks or anything like that. Each track is essentially a midtempo beat, with a slight variation from track to track, where One Be Lo is playing the role of storyteller more than emcee. I only say that because this project so much less about wordplay and so forth that you'd find on a more typical hip hop album, this is about clearly telling this epic story, and the lines just happen to rhyme. As a result, the story takes the forefront, and boy is it a doozy. If you go to the Bandcamp page, you'll get a full listening guide, with symbols, glossary, and a character guide to help you sort out this saga, which focuses on the characters of An-onymous and EE'TI, who navigate the Kush Dynasty and fulfill their destinies on The Water Planet. This, of course, is the most base description, which gets much more involved and goes through all sorts of twists and turns and characters come and go over the course of the five installments. This obviously won't be for everyone, but if you're a rap nerd that also loves Dune or other sci-fi/fantasy series like that, this is absolutely for you.
One Be Lo has been making hip hop his own way for quite some time, and he's engaged in world-building before, but nothing on this scale. The Looma is a project with few peers. It takes a big commitment from listeners, but you'll be taken on a journey unlike any other in hip hop.
| | |
| --- | --- |
| Title: | One Be Lo - The Looma (Part 1-5) |
| Label: | S/R |
| Year: | 2019 |
| Rating: | 8/10 |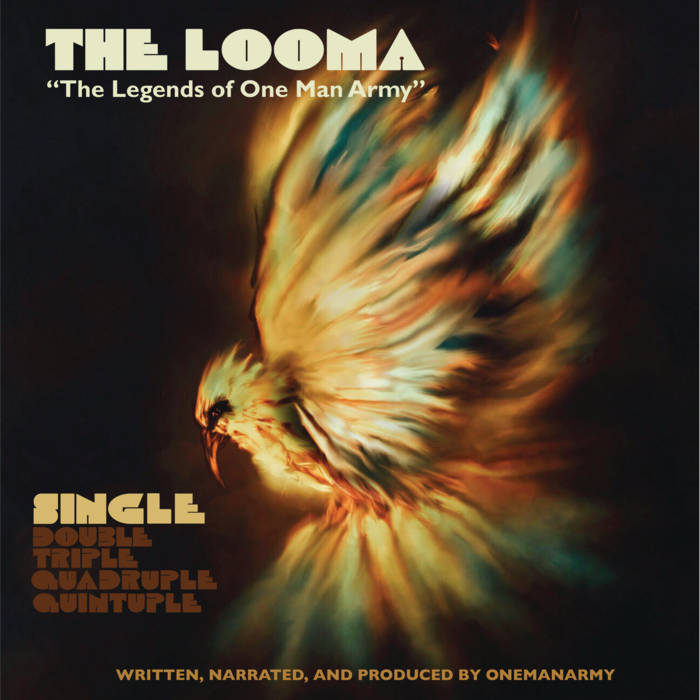 Previous: Blockhead - BUBBLE BATH
Next: Kathy Iandoli - God Save the Queens: The Essential History of Women in Hip-Hop