Mega Ran & MC Lars - Dewey Decibal System
Written by Chi Chi Thalken on June 7, 2019
Emcees Mega Ran and MC Lars have long been in each other's orbits, since the subgenre known as nerdcore is a fairly small world, and so it was natural that they would keep connecting over the years, touring together and guesting on each other's projects. Now, after all this time, they've finally made a full-length album together, Dewey Decibel System.
As you might have inferred from the title of this album, the theme here is books. Over the years, both artists have made songs about some of their favorite books and authors, so it makes sense that this would be the common ground for their collaborative album. Over the course of the album, we cover such books as 1984, Gulliver's Travels, Walden, and Watchmen, just to name a few. We get a range of styles to match the range of books, with production from Rich Matthew, Last BeNeVoLeNcE, Steggozaurus, Mustin, CharlieMumbles, Theosyn, Eric Taft, S.A.T. Beats, Middle East Modern, and G1, who bring everything to the table from Old School '80s beats to ska and everything in between. We also get a bunch of friends hopping on the album to join in the fun, with B. Dolan, FaceOMeter, Jill Sobule, Storyville, Dan Bull, Jaret Reddick, Kelly Ogden, Stacked Like Pancakes, MC Frontalot, Schaffer the Darklord, Miss Eaves, and Quelle Chris all contributing to the nerdy literary fun happening here. Overall, you kind of know what you're getting into with this album from the get-go. It's a bunch of nerdy emcees having fun, rhyming about books. Some tracks work better than others, such as "1984," with B. Dolan, which naturally opens itself up to discussion about the paranoia and government control, or "Watchmen," which lends itself perfectly to a posse cut where each emcee gets to break the complexities of each character. On the other side of things, there are a few tracks where it feels a bit more like your goofy teacher is trying to get you excited about reading, but even then it's not really that bad, and again, you kind of knew what you were getting into when you started in on an album called Dewey Decibel System.
This album isn't perfect, but it's full of nerdy fun from two emcees who have known each other for a long time and just wanted a project they could work on together and have a good time while they put it together. It's exactly what you'd expect from Mega Ran and MC Lars.
| | |
| --- | --- |
| Title: | Mega Ran &MC Lars - Dewey Decibal System |
| Label: | Random Beats |
| Year: | 2019 |
| Rating: | 8/10 |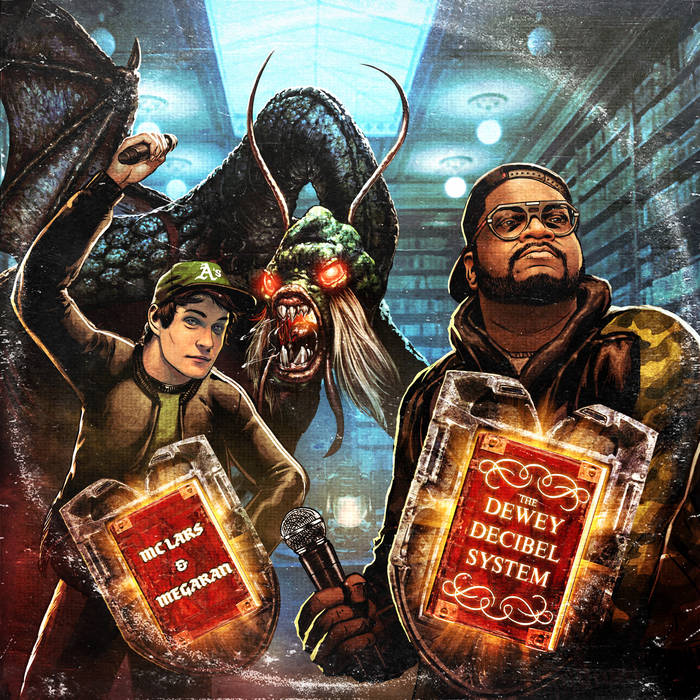 Previous: Sweatson Klank - Super Natural Delights
Next: Kinkajous - Hidden Lines