Love Moor - Motions
Written by Chi Chi Thalken on November 23, 2020
Love Moor is a vocalist from Birmingham who has been releasing music for the last five years. Her last album, Simp Girl, came in 2017. Since that time, she's released a couple of singles, and played live a lot (back when we still could), but now she's finally back with her new full-length album, Motions.
One of the true joys in life for someone like myself is the chance to watch an artist grow and improve in real time. Since moving to Alabama in 2017, I've been fortunate to watch a few artists take some major artistic steps, and now I get to see it again with Love Moor on Motions and it's a delight. With Moor, the growth is more subtle and nuanced, so it's not like you press play on track one and you'll be blown away. It's more like you get to the end of the album, wait a second in silence, and then say to yourself, "Damn." For the majority of the album, she's working with Suaze, who produced all of Simp Girl, but she also gets contributions from Chikn' Jorge, Brandon Varner, Uncle SeeJ, and Luke S. Crowder. It's a testament to these producers and Moor's ability to pick the beats that fit her best that everything flows together really well – you don't necessarily notice in real time which ones are Suaze beats and which ones aren't. That's because all the tracks are riding this same vibe, delivering some really laid back downtempo neo-soul, but still managing to find room for plenty of variety and energy and soul. It's not easy, but Moor puts in the work to make sure that the album remains engaging from start to finish without having a big uptempo number to push things over the top. That brings us to Moor herself as artist and performer. On Motions, she's really coming into her own as both a songwriter and vocalist. The real test here is that Moor never has a big moment vocally, and she doesn't tackle any subject material outside of your everyday sort of "life and love," and yet she manages to make the entire album compelling from start to finish. This is happening for a few of reasons. One is that Moor is just giving you a really honest look at herself as she tries to find love and make a career for herself as an artist and to make her family proud, which just makes the whole album easy to engage with as a listener. Second is that Moor has a great ear for hooks, and she's really clever with her phrasing to create a few earworms that will stick with you after the album is over. Third is that Moor has a really strong voice, even if it isn't a "big" voice, and she has a great sense of melody, injecting her R&B with touches of jazz and reggae voicings, finding this balance between subverting your expectations with the melody and still creating something memorable that you could sing along to. This all adds up to an album that will sneak up on you, but it's so smart musically and so emotionally honest, it will really find its way into your heart and mind.
Love Moor has been putting in the work since her last album, and now the payoff is here in Motions. She shows an incredible amount of growth that keeps revealing itself in all of the subtle and nuanced ways as you work your way through the album, all the while just packing the whole thing with really honest and emotional lyricism. It's a big step forward for her.
| | |
| --- | --- |
| Title: | Love Moor - Motions |
| Label: | S/R |
| Year: | 2020 |
| Rating: | 9/10 |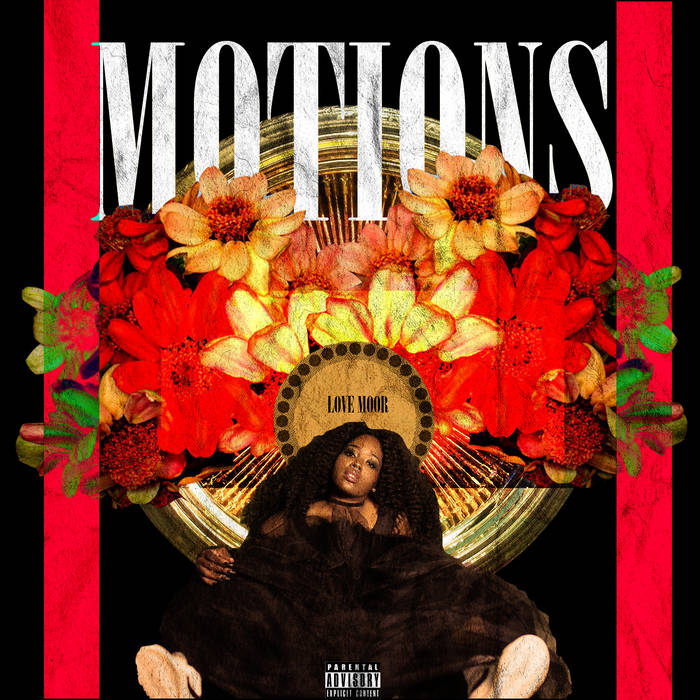 Previous: Ivy Sole. - Southpaw
Next: Sons of the James - Everlasting