Libretto & Buscrates - Eternal Ridin'
Written by Chi Chi Thalken on May 22, 2019
Libretto is an emcee from Portland, Oregon who dropped his debut album all the way back in 2004, back when Dim Mak was releasing post-punk/indie rock. Unfortunately, despite the signing, things didn't take off the way they should have amidst a changing musical landscape, and in a few years, Libretto found himself struggling to maintain and found himself in prison. Fortunately, since he got out, Libretto has found support in the way of Liquid Beat Records, also based in Portland, who have already released a couple of singles, EPs, and two volumes of Gangsta Jazz albums with him. Now, they continue that ride by releasing his latest LP, a collaboration with Pittsburgh producer Buscrates called Eternal Ridin'.
Sometimes you don't need to overthink things – just trust yourself to do what you do best. That certainly seems to be the philosophy on Eternal Ridin'. Both Libretto and Buscrates have been at this a while, with Buscrates putting together a scattered discography over the years that includes solo projects, collaborations, and production credits that range from Thaione Davis to Wiz Khalifa & Curren$y. So when the two paired up to work on an album together, they both just brought their best to the table and let the music happen. The result is an album in Eternal Ridin' that sounds immediately familiar. It also manages the rare feat of sounding like an album from a bygone era while also sounding current and relevant. This is because Buscrates is a versatile producer, and he brings a lot of West Coast vibes to the project, with laid back beats and just a touch of G Funk to the proceedings, while also mixing in just a little modern R&B/hip hop production as well. This provides the perfect setting for Libretto as an emcee who thrives on storytelling first and foremost. He's a skilled emcee overall, and he certainly flashes some technical prowess and throws in some clever wordplay, but it's really his longform narrative and personal confessions across the album that elevate Eternal Ridin' to the next level. He doesn't shy away from talking about serving time, dealing with institutional racism, or with a music industry that has pushed him aside. It's all very thoughtful and heartfelt, and that's where Libretto is really able to leave his mark.
Libretto may have gotten lost in the shuffle a little bit over the years, but if you've been sleeping on his comeback, you're missing out on some truly quality hip hop. Eternal Ridin' is another great entry in his second act.
| | |
| --- | --- |
| Title: | Libretto & Buscrates - Eternal Ridin' |
| Label: | Liquid Beats |
| Year: | 2019 |
| Rating: | 8/10 |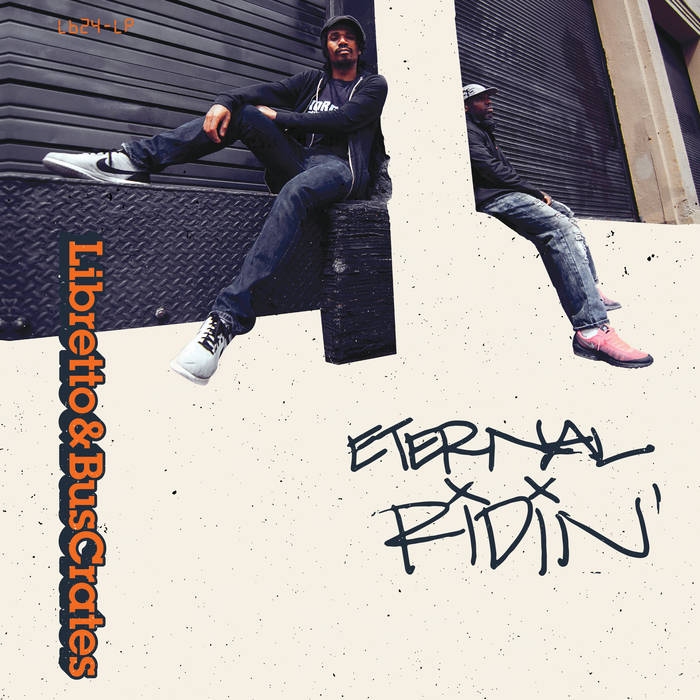 Previous: Cicada Shells - Laura Dern EP
Next: s.al - I Steel of Radiance, I Feel So Action