L'Orange & Jeremiah Jae - Complicate Your Life With Violence
Written by Chi Chi Thalken on October 8, 2019
L'Orange is a producer from North Carolina who has been going strong since the beginning of the decade. Over the course of his career, he's released a few solo albums, while also working with emcees such as Mr. Lif, Kool Keith, and Stik Figa, just to name a few. Another artist he worked with was Chicago emcee Jeremiah Jae, when they came together in 2015 to release The Night Took Us In Like Family. Now they've come back together to release a concept album about war, Complicate Your Life With Violence.
If you hadn't seen the cover of the album or read the title, but somehow managed to just press play on the first track, you just might be fooled into thinking this project was something else entirely, as L'Orange creates a fun and novel landscape as he chops up and flips a multitude of vintage samples to create this hip hop mosaic that he's become known for. It's certainly impressive and fun to listen to, but in many ways he's just letting you get comfortable before pulling out the rug from underneath you when you get to track two. Starting there, with "Behavior Report," he and Jeremiah Jae come at you with track after track that examine the military industrial complex and the nature of war, asking questions about the propensity toward violence in men. Over the course of the album, L'Orange finds a balance between these dark and gritty sounds and some novelty vintage sounds, which in turn feels like the balance that a lot of people turn to in relating the experience of war – the horror gets to much to bear, so they turn to absurdity to deal with it, such as in Catch 22. To help relay the deeply fucked up experience of going through war and serving in the military, Jeremiah Jae uses a lot of first person narratives to really put you in the shoes of a soldier as he discusses everything from how it effects his love life back home to the weird social dynamics of boot camp to the deep confrontation of your own mortality. We also get joined by some guests who do an excellent job of rounding out the album with some thoughtful perspective, with Chester Watson, Zeroh, Loji, and Billy Woods all lending voice to this fucked up part of human existence that is war.
Complicate Your Life With Violence isn't a lighthearted album, but it is a necessary one. L'Orange and Jeremiah Jae take on some big and important subject matter, and ask some tough questions, all while making sure they are still making some dope hip hop. That ain't no easy task.
| | |
| --- | --- |
| Title: | L'Orange & Jeremiah Jae - Complicate Your Life With Violence |
| Label: | Mello Music Group |
| Year: | 2019 |
| Rating: | 8/10 |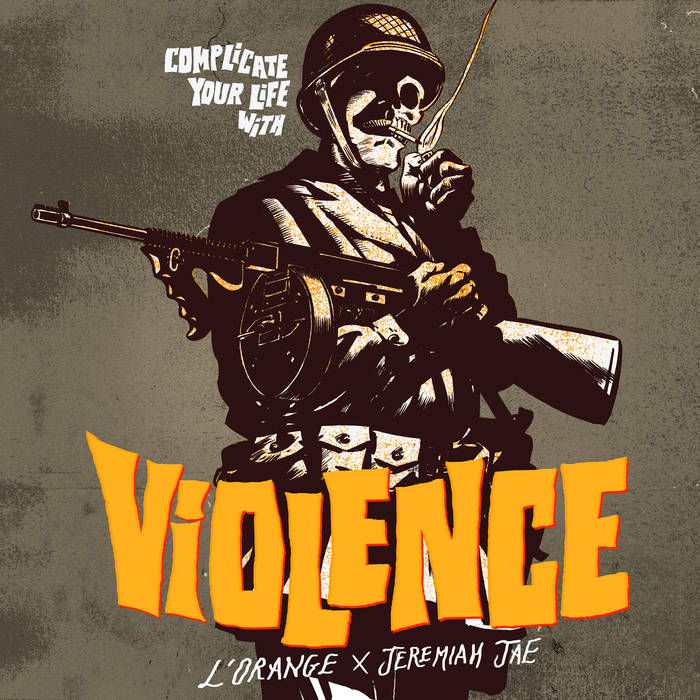 Previous: Hectic Zeniths - A Soundtrack for Real Justice: A Fundraiser for the Philadelphia Community Bail Fund
Next: Anthony Maintain - Plugging Holes in the Same Leaky Boat